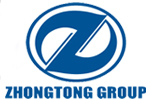 ZhongTong Automobile Industrial Group Co., Ltd

Zhongtong Automobile Industry Group Co., Ltd., founded in 1958, is a large-scale solely state-owned enterprise dealing in buses and special cars. After fifty years of development, now, the company has more than 3 billion yuan of total assets, 1 billion yuan of net assets, over 4,000 employees (including 1,200 with college degree or above and 860 or more various professional technical personnel), three holding subsidiaries, five wholly owned subsidiaries and two joint-stock companies. Zhongtong Bus Holding Co., Ltd. held by the Group Company is one of the four listed companies in China's bus industry and a backbone enterprise producing buses designated by the central government and the Ministry of Transport, whose comprehensive strength has ranked the fifth in the same industry in China. In recent years, Zhongtong Group has improved its traditional advantaged industries by constantly optimizing its resource allocation and transforming its economic development mode, strived to develop strategic and emerging industries and gradually formed a diversified industrial system integrating "Bus, Special Car, Steel Structure, Real Estate". As the scale constantly expands, Zhongtong Group has become one of the 136 large-scale enterprise groups of Shandong Province and one of the 18 key enterprises of Liaocheng City.
With nearly 40 years of car production history, Zhongtong Group boasts powerful strength, internationally advanced BOVA vehicle production lines and technological equipment, as well as an annual production capacity of 20,000 buses, 10,000 special cars and 10,000 automobile chassis, an annual manufacturing and processing capacity of 80,000 tons of steel structure and an annual development capacity of 100,000 m2 of real estate. Besides, it has taken the lead in passing the certifications of ISO9001 and 3C in the industry.
Zhongtong Group has strong R&D strength. As a demonstration enterprise of the National 863 Program and CIMS and a National Key High-tech Enterprise, Zhongtong Group has a national laboratory, a national technology center, two provincial technology centers, and post-doctoral R&D workstations set up upon the approval of the Ministry of Human Resource and Social Security; has established long-term strategic partnerships with many domestic and foreign scientific research institutions and formed an integrated high-end innovation system. The new energy buses and other products developed by Zhongtong Group have undertaken many national 863 programs successively and are in the leading position in the industry.
Zhongtong has maintained an average annual growth rate of over 30% in recent years, its strength has grown constantly and its corporate image has improved constantly, too. Zhongtong bus under it has been rated as "China Famous Brand" products and "China Well-known Trademark"; the special cars have been awarded the title of "Shandong Famous Brand"; its Zhongtong brand steel structure has been named "Shandong Famous Brand Product" and won "Golden Steel Award" for many times; and Zhongtong Real Estate also enjoys a good reputation in Liaocheng, many houses developed by it have become classical residential areas there. Zhongtong buses and special cars sell well in more than 30 countries and regions around the world and enjoy a rather high reputation both at home and abroad. Zhongtong Group have been listed in the first "National Vehicle Export Base Enterprises" and successively won the export brand recommended by the Electromechanical Chamber of Commerce, Key Export Brand cultivated and developed by Shandong Province, etc. After years of professional operation and innovative development, the Group Company has been highly recognized and praised by people from all walks of life, successively obtained such honorable titles as "Top 100 Enterprises in Shandong Machinery Industry", one of "Shandong's First Group of Credit Enterprises", "Top 500 in China Information Construction" and "Top 500 in China Machinery Industry", and become one of China's large commercial vehicle manufacturing enterprises with strong strength and competitiveness.
New situation grants new mission to rapid development. With the global economic integration and high-speed economic development in China, the Group Company adheres to the core values of "Gratitude, Responsibility, Respect, Integrity" and the tenet of "Create Value Continuously, Benefit Human Society", follows the diversified development strategy and brand strategy, insists on taking an internationalized development road, strive to create a well-known large-scale enterprise group with first-class operation quality and development quality in China, strive to become a leading enterprise in the industry by 2020 and marches towards the grand goal of "building a group with 10 billion yuan of assets and a century-old enterprise".