Sales volumes of JAC Liangjianzhe II are growing
(chinaspv.com, Oct 25, 2010) The increasing logistics transportation of middle and short distance has directly pulled the medium truck sales volumes. Some enterprises are beginning to aim at medium truck market. It is learned from JAC Auto that JAC four cylinders medium truck is officially listing after one year's preparation. JAC Liangjianzhe II will become another important transportation vehicle in middle and short distance range.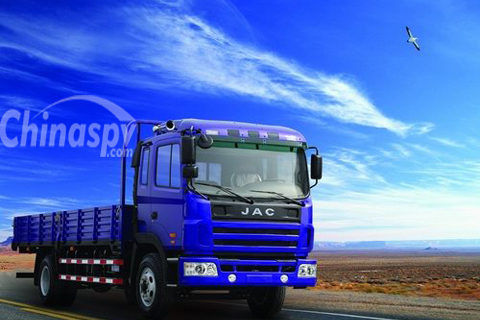 JAC Liangjianzhe II medium truck
Liangjianzhe II has adopted Xichai 140 engine, and power shall be expanded to 160 horsepower. At the same time, it also could be equipped with Yuchai National III engine as the optional. The great match of engine and the vehicle have guaranteed the power improvement of Liangjianzhe II. The torque and storage torque have also been enlarged, which have solved the problem of insufficient power and low starting.
Newly listing JAC Liangjianzhe II have satisfied the requirements of middle and short intercity logistics transportation at power, interior decoration, and exterior appearance. The price of 98,000 RMB is the mostly factor to attract the customers.
The promotion of JAC Liangjianzhe, II will help to improve industry position of JAC in medium truck industry. The fresh start of medium truck is not far.