Weichai and Foton Tie the Knots for New Round of Strategic Cooperation

www.chinaspv.com: On May 4, China's largest engine manufacturer Weichai Power and China's largest business vehicle manufacturer Foton Automobile signed a cooperative agreement for a new round of strategic cooperation in Huairou, Beijing, where Foton-Daimler Heavy Truck Production Factory is located. According to their agreement, the two parties will take advantage of their respective technological strengths and jointly develop new heavy trucks meeting National V and National VI Emission Standards. Whiel emphasizing more high quality products, the two partners stress the urgency for further strengthening their social responsibilities and expressed their determination in combating the environmental pollution.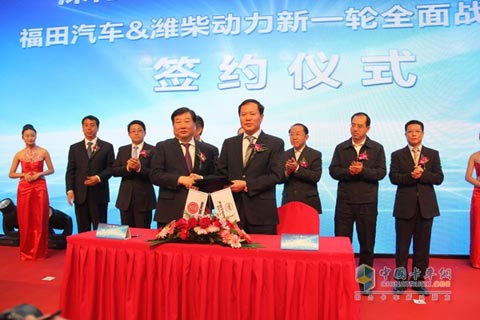 The two well renowned enterprises, Foton and Weichai have been in close cooperation early since 2002. Both parties signed strategic cooperation in 2006 and 2008 to further strengthen their ties. To date, Foton Auman heavy trucks equipped with Weichai engines have sold over 600,000 units.

At the signing ceremony, Wang Jinyu, General Manager of Foton Automobile pointed out the new strategic agreement represents a further step foward for both parties and will significantly deepen their cooperation in even wider areas. After jointly rolling out Auman heavy-duty trucks, the two parties have had comprehensive cooperation in bus manufacturing, construction machinery, etc. In the coming round of cooperation, Weichai will maintain its position as No. 1 strategic provider for Foton.

Tan Xuguang, president and CEO of Weichai Power also spoke highly of the two parties cooperation. In the future, Weichai will continue strengthening its competitiveness in cost management, technological innovation and quality improvement. In doing so, the engine manufacturer aims at provide all-round support to Foton's new round of business expansion.