Allison Selected by ReTech to Provide Transmissions for a Growing Variety of SV
www.chinaspv.com: In addition to multipurpose road management vehicles, Allison is now supplying fully automatic transmissions for road surface sweepers and runway snow removal equipment

Allison Transmission has been selected by ReTech, a leading Korean road equipment manufacturer, to expand the number of fully automatic transmissions it supplies for the company's speciality vehicles.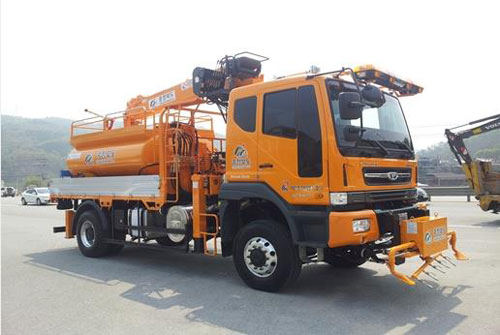 Founded in 1994, ReTech is Korea's largest manufacturer of multipurpose road management vehicles and winter service vehicles. It has led the way in replacing expensive imports with their own independently-developed equipment. ReTech is currently developing or manufacturing more than 60 types of specialty vehicles.

"For more than 15 years, ReTech has dedicated itself to research and development of new products to help the government and companies more efficiently maintain roads and road facilities," said Hyeok-jae Lee, technology director for ReTech. "Allison fully automatic transmissions live up to the values that we pursue, including efficiency, reliability and highest possible value for customers."

Multipurpose road management vehicles are ReTech's core products and are the only Korean vehicles capable of maintaining roads through all four seasons. A flat device at the front of the vehicle can be used to wash and clean during the summer, and remove snow in winter. The runway snow removal equipment can swiftly remove heavy snow from runways, taxiways and moorings.

Until recently, Allison had primarily supplied its fully automatic transmissions for ReTech's multipurpose road management vehicles. However, as a result of their many benefits, ReTech now uses Allison products in more of its vehicles, including road surface sweepers, runway snow removal equipment, vacuum trucks for runways, and communication vehicles.

"Domestic demand for specialized vehicles for road management and cleaning is burgeoning," said Kyoung-mee Lee, country manager for Allison Transmission. "We are receiving more and more inquiries about Allison products, which maximize productivity and efficiency. We are proud to expand our relationship with ReTech and help make the urban environment in Korea cleaner and safer."

The advantages of Allison Automatics are numerous. With an Allison, the driver does not have to manipulate the clutch and shift the gear, which reduces fatigue. An Allison also delivers smooth gear shifting and quieter driving, which are major benefits for road management vehicles. Fuel efficiency is increased because the transmission optimally accounts for cargo load, ground evenness and sloping, and operating conditions. Additionally, time and money spent on maintenance are greatly reduced because the transmission only requires periodic oil and filter changes.