RSU Adds 22 Allison-equipped Vehicles to its Fleet
www.chinaspv.com: Operating a fleet of 157 vehicles to carry out a range of tasks associated with the collection and treatment of waste produced by almost 400,000 people living in the province of Ciudad Real, Residuos Sólidos Urbanos de Castilla La Mancha (RSU) recently took delivery of 22 new vehicles equipped with Allison Automatics.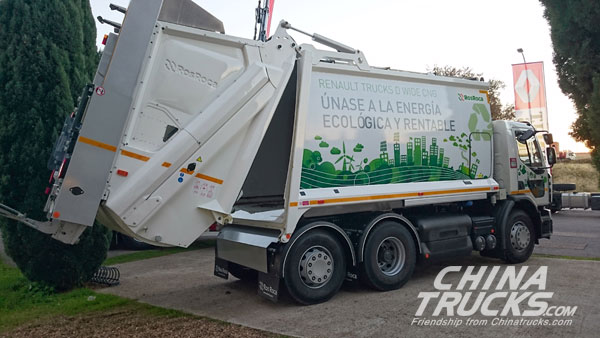 "We have been working with Allison for over 10 years," said Ignacio Aguilar, director of the Technical Department for RSU. "At the beginning they were only installed in leased vehicles, but having experienced their performance, we decided that all refuse collection vehicles should be fitted with their fully automatic transmission."
RSU estimates that the new trucks will work an average of 2,500 hours per year, covering about 50,000 km over 50 different routes and collecting different waste type for a number of municipalities in the province. The vehicles will be based at the Almagro Waste Treatment Centre and at the company's six transfer stations.
Of the 22 new vehicles, 14 are Iveco trucks rented from Fraikin, a leading industrial and commercial vehicle hire company. Twelve rear loaders are built on Iveco Stralis AD260S33 Y/PS chassis and feature ROS ROCA Olympus Plus 22 bodywork and equipment. The other two are Iveco Stralis AD190S33/P equipped with ROS ROCA Olympus Wide 16 bodywork.
"We choose Allison for all waste collection, firefighting and emergency service vehicles," said Ángel Vallcorba, technical director at Fraikin España. "Our experience has always been positive and fitting our municipal vehicles with Allison technology affords us greater peace of mind."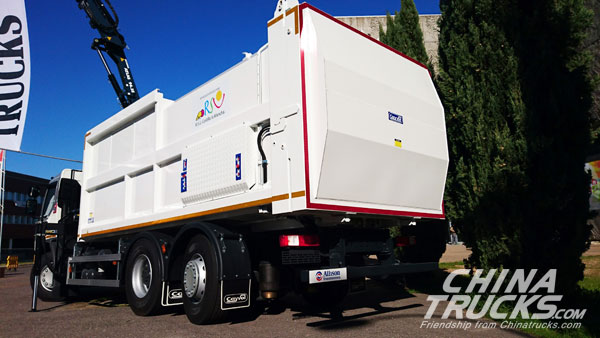 Another Iveco Stralis AD 260 S31Y / PS features OMB CMPL7ETS side loader collection equipment. The remaining seven vehicles are Renault trucks. Four are side or rear loaders equipped with ROS ROCA bodywork; one features SITA Aquatec side loader and bin-cleaning equipment and other two an Atlas 96.3 AE SL truck-mounted crane with Cayvol Recupres 23 bodywork.
"We believe that it is impossible to undertake an operation like this without a transmission solution such as the one provided by Allison," said Vallcorba. "The service quality and demands make state-of-the-art equipment a vital requirement. Allison is our main transmission partner able to provide this type of service quality."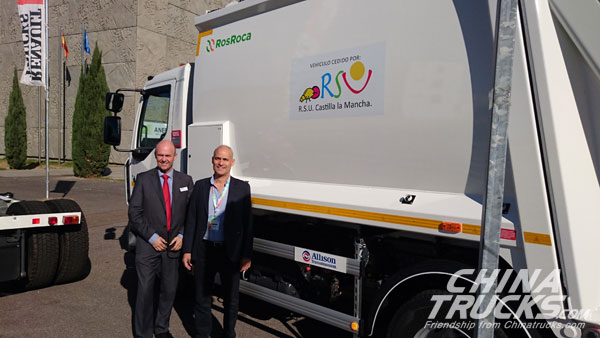 Allison Automatics remain the preferred choice for municipal applications
"Allison-equipped trucks are working more hours, spend fewer hours in the workshop and maintenance costs are lower," said Aguilar. "Moreover, operators appreciate the more comfortable driving experience. Refuse collection involves numerous stops and starts, and the stress on joints in legs and arms associated with manual shifts takes its toll."
According to Aguilar, the company plans to continue increasing the fleet: "RSU envisions the acquisition of three additional vehicles for the selective collection of light packaging waste, another for the collection of glass, two rear loading bin cleaners and two rear and top-loading refuse collection trucks. All of these vehicles will be fitted with automatic transmissions".
Enhanced performance and productivity
The Fraikin Alquiler de Vehículos fleet includes a total of 40 vehicles fitted with Allison Automatics and it had already supplied RSU with 18 Allison-equipped Iveco and Renault trucks, prior to the delivery of the last 14 vehicles.
"We are speaking about driver safety and accident prevention, coupled with enhanced performance and productivity," said Vallcorba. "Special vehicles are difficult to replace due to their bodywork, therefore when they break down, service continuity is at risk.
"It is easy to demonstrate that with the adoption of Allison Automatics our trucks have fewer breakdowns. They spend less time in the workshop and above all, we the number of incidents involving several days of vehicle downtime have been reduced. Furthermore, enhanced driving efficiency results in fuel savings."