FAW Got an Order for 151 Units J6P Trucks in Jiangxi Province
www.chinaspv.com: Recently, Jiefang J6P 8x4 State V Lvtong truck promotion activity, organized by FAW Jiefang Sales Co., Ltd and co-organized by Gaoan Angyu Automotive Sales Service Co., Ltd, themed around "lightweight design makes a higher speed and fresh delivery" is grandly held in Gaoan City, Jiangxi Province. During the promotion, a total of 151 units were ordered.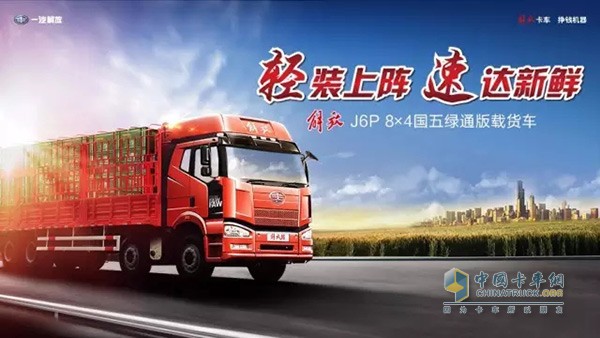 It is learned that new Jiefang J6P 8x4 Lvtong truck's prominent characteristics include: 12-gear all-aluminum transmission, optional aluminum wheel rim and 9.5t minimum weight. With Jiefang's own unique fuel-saving technology adopted in its product lines, J6P 8x4 Lvtong truck uses about 2L/100km less fuel than the likes. Jiefang J6P 8x4 Lvtong is fitted with auxiliary-wing suspension, enhanced 435 rear axle and upgraded tire. It also uses steel sheet metal measuring 1mm in thickness, the thickest in China, in driving cab to enhance vehicle reliability. What's more, J6P 8x4 provides a 850mm wide berth, in which drivers can enjoy a comfort, safe driving.