The Story Behind XCMG's Success: Ranking as the World's No.6
Last year has been proven to be a favorable year for construction equipment manufacturers in many years. After several years of industrial downturn and declining figures, KHL group, the world-leading information provider of construction machinery industry, has reported a strong rebound in sales since 2013, especially in China – a staggering 82%.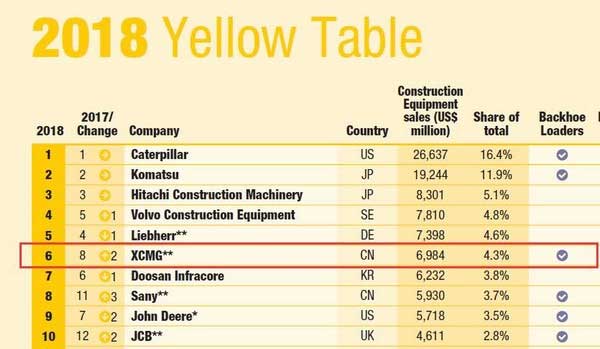 Meanwhile, XCMG, being China's no.1 construction machinery manufacturer for 29 consecutive years, jumped two spots to top six in the Yellow Table survey and was reckoned as one of the vital force for the robust recovery in the equipment industry, accounting for a significant growth regarding equipment categories.
Forging ahead in Challenging Times
Despite the fact that challenges are marching in from within and outside of the industry, XCMG remained undaunted and maintained its steady development pace as an international enterprise. Seeing innovation as the mission of the company, in 2017 and early 2018, XCMG has heralded a new era for Chinese heavy equipment manufacturing, in fields such as product development and technological innovation.
Becoming a Manufacturing Powerhouse
As what China's President Xi Jinping pointed out during his inspection in XCMG, innovation must be embedded with initiatives, and therefore, being 'innovation-driven' is the prerequisite of global supremacy in the international construction equipment market. XCMG's XE7000E 700-tonne hydraulic excavator, which was successfully launched on 2 April 2018, is a striking instance of XCMG adopting cutting-edge technologies, including dual-power controlling system, intellectual high-pressure monitoring system, autonomous fault-diagnosis technology and self –adaptive chassis. This achievement in the excavator category has become the biggest move for Chinese manufacturer. In fact, excavators have recorded a 125% year-on-year sale increase since 2016.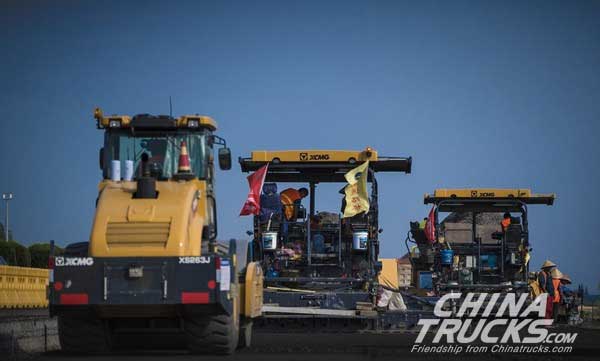 Caring for the Customers
Catering to customers' needs is certainly a crucial factor fostering the upsurge of equipment sales in 2017 in China. XCMG has constantly seized opportunities in oversea market and provided customers solutions by integrating industry-leading products and services. XCMG believes that fulfilling customer's expectation motivates achievement of continuous breakthroughs. Customized to client specifications, XCMG machines are ubiquitous in Central Asia, West Asia, North Africa and Asia-pacific region, to support projects along Belt and Road, delivering their best performance in varied climates and terrains.
Manufacturing in a Smart Way
The world of technology is ever-changing. In the light of maintaining strong sales revenue momentum in the fiercely competitive market, innovation in manufacturing intellectual products is indispensable for the world-class status in the industry. XCMG takes its dedication to advanced technology one step further by investing in a 94-acre mining machinery industrial base. The base is expected to include a sizeable boring milling machining center, intelligent welding robots, and has focused R&D efforts on destressing equipment, laser tracking and measuring instruments.
The Ongoing Success Story
XCMG's strategies are leading a path of becoming a first and global leading construction and mining equipment manufacturer through ceaseless exploration in innovative and smart technology. Following on from a number of difficult years in sales for construction equipment, XCMG will continue be playing a globally vital role in the world of heavy machineries nonetheless. (www.chinatrucks.com)