Weichai Natural Gas Powered Engines Reach 10,000 Units in Monthly Production
On December 29, 2018, Weichai officially rolled out its 10,000th unit natural gas powered engine in Weifang, Shandong province, making a new record in its monthly production volume of natural gas powered engines. According to the engine maker, its sales volume of natural gas powered engines for heavy-duty trucks in 2018 is expected to hit 50,000 units, accounting for over 60% of the market.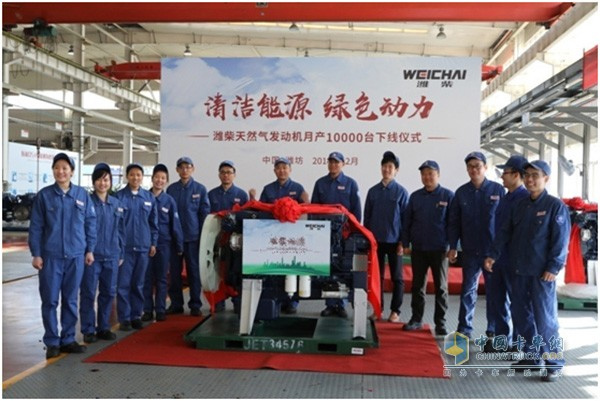 With a lower rotation speed and a higher torque, Weichai natural gas engine delivers more powerful performances. By optimizing its key spare parts, the engine achieves higher maneuverability and reliability.
Weichai WP13NG natural gas engine made its debut in 2017. It is chiefly targeted at the truck market. Having cut its natural gas consumption by 16% for every 100 kilometers, the engine has long won the heart of many customers.
As one of the leading engine makers in China, Weichai is committed to developing more energy-efficient and more environmentally friendly engines and combating air pollution across the globe. On August 29, 2018, Weichai signed a technological cooperation agreement with Canada-based Westport Fuel Systems Corp. By joining hands with other well-renowned enterprises in the world, it aims to promote the second generation of HPDI technologies in China. In 2019, Weichai's new generation WP12HPDI engine is set to realize mass production.