Tan Xuguang Answers Questions from Reporters at 2019 Two Sessions
In the afternoon of March 6, 2019, the Shandong delegation of the Second Session of the 13th National People's Congress held a plenary meeting to review the government work report open to Chinese and foreign medias.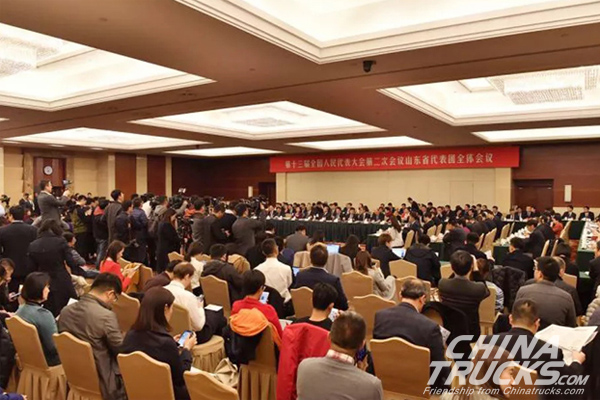 At the meeting, Tan Xuguang answered to the reporter of Economic Daily and shared his understanding of "unwavering focus the main business" with the participants.
Tan Xuguang said that in the past year, Weichai people have kept in mind what the General Secretary Xi said and established the Group's goal of achieving 100 billion US dollars in revenue in 2030. At the same time, Weichai also brought together global innovation resources as the important foundation for products to become world-class and achieve high-quality development.
In response to the hot topic concerned by the media of how would CNHTC focus on the main business, Tan Xuguang said that the strategic transformation of CNHTC from China's heavy-duty vehicle manufacturing to China's full range of commercial vehicle manufacturing has started.
Liu Jiayi, Secretary of the Provincial Party Committee and Director of the Standing Committee of the Provincial People's Congress, highly affirmed the practice of Weichai's "unwavering focus on the main business" and praised Tan Xuguang.