Yuchai and Huawei Sign Strategic Cooperation Deal for a World-class Enterprise
Date:
2019-08-29
Source:
www.chinaspv.com
On July 19, Yuchai's first cooperation project with Huawei, Yuchai R&D System Reform (YCDS), was officially launched. It fully opens a new round of system reform in Yuchai, launching the construction of a world-class enterprise. At the kick-off meeting, Yan Ping, Chairman of Yuchai Group, said that "Yuchai's cooperation with Huawei is to carry out our self-revolution and self-transcendence on the shoulders of giants. With the determination to do what is necessary, the confidence to win and the iron will, Yuchai Group will go all out to push forward the system reform, build the world-class enterprise and uphold the national industry."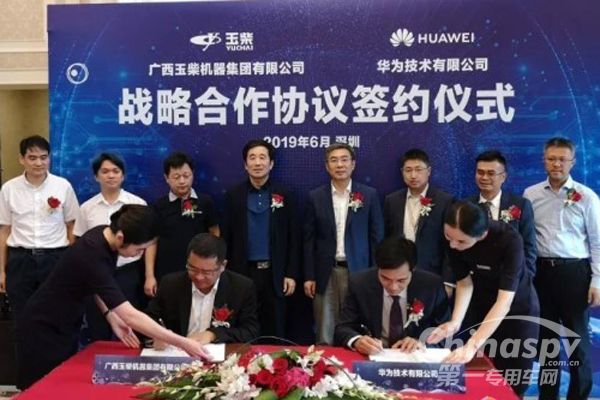 This reform is an important measure taken by Yuchai to promote the transformation of business management from product-oriented to customer-oriented. With the help of Huawei's successful experience in the construction of IPD (Integrated Product Development) system, the two sides plan to create a modern world-class R&D management system integrated with China's machinery manufacturing industry.
"After several years of self-transformation, Yuchai has achieved a thorough change, laying a solid foundation for overtaking the world-class enterprises", Yan Ping said. This new era witnesses Yuchai's important task of overtaking the world-class enterprises and upholding the national industry, therefore, learning from such a great enterprise as Huawei is the most effective way to fulfill.
"This reform is the beginning of a new round of major self-revolution, a major transformation within the enterprise, and a major change for Yuchai to further build its core competitiveness such as strong customer service capability and market adaptability", Yan Ping said. "Any reform, that is, redistribution of benefits, is bound to produce pains. However, in order to achieve the goal of building a world-class enterprise, one must endure pains to get a new life. Yuchai will not hesitate to remove all difficulties and obstacles in thinking, concept, personnel and organization, allocate the best resources and vigorously push forward a new round of system reform with an iron hand. Through this reform, we hope to establish a strong system of Yuchai, to create a group of innovative and promising young cadres, to speed up the pace of Yuchai's internationalization, and to realize the grand blueprint of building a world-class enterprise."
It is understood that from 1998 to 2003, Huawei carried out a thorough reform. With the help of IPD introduced into IBM, Huawei's operation and management experienced qualitative changes. Although Huawei is not the first enterprise entering the ICT field in our country, it has grown into a global leader in this field with the success of its management system even under such a competitive market environment and has achieved remarkable achievements. "Huawei's international status now depends on the strength of its products", Qin Zhuo said. At the early stage, Huawei occasionally developed good products. But now, Huawei continues to develop world-class products. The key lies in a standardized and personalized R&D system, which is very suitable for Yuchai. Therefore, Huawei will provide its most elite strength to build Yuchai's most competitive system together with Yuchai, and help Yuchai to realize the dream of internationalization.
According to the strategic cooperation agreement signed by Yuchai and Huawei in Shenzhen on June 14, the two sides will give full play to their respective advantages and implement strategic cooperation in the fields of R&D, informatization, internationalization, enterprise management, new energy and other fields, so as to increase the product value of both sides, provide more intelligent and diversified services for customers and reach a win-win situation.
With the help of Huawei, the first step for Yuchai to rebuild the whole system is to push forward Yuchai R&D system reform (YCDS) and carry out a subversive reconstruction to enhance the profitability and improve the overall competitiveness of the enterprise. The project is expected to be completed as to November 2020.
At the same time, at the crucial stage of intelligent transformation of information system for R&D of Yuchai's China VI engine and establishment of production lines, Yuchai will be engaged in more technical cooperation with Huawei in the construction of digital and intelligent factories, promote the deep integration of emerging technologies such as big data, 5G, cloud computing and mobile interconnection with traditional manufacturing businesses, and enhance the commodity power, manufacturing power, system power, marketing power and brand power, leading to strategic transformation, taking the lead in the new era of China VI engines and striding towards internationalization.
A collective pledge by more than 300 management cadres for Yuchai's determination and confidence in system reform to the end and establishment of a world-class enterprise at the project kick-off meeting