Xinhua Daily Headline: XCMG in the East of Xuzhou
At the 70th anniversary of the founding of the People's Republic of China, XCMG also ushers in the 30th anniversary of its creation. A journalist of Xinhua Daily has interviewed Wang Min, Chairman of XCMG and made a special report to review the course of joint development between Xuzhou and XCMG, and XCMG's contribution to the building of Xuzhou as a center city of Huaihai Economic Zone.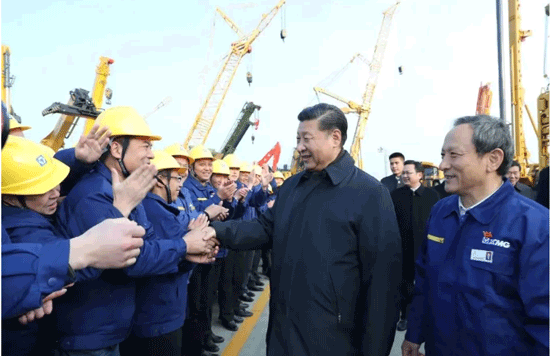 Progressing like a sports car, Xuzhou places its engine in the east where boasts Xuzhou Economic Technology Development Zone and High-speed Railway, as well as national ecological industry pilot zone, new energy industry base, demonstration base for overseas talents starting business.
The east of Xuzhou becomes a core area of the City of construction machinery in China because of an enterprise.
That's XCMG.
This year marks the 30th anniversary of the founding of XCMG. Developing from a local state-owned enterprise to the top six in the world, XCMG shows its strengths as a pillar of a great power to the world, and also promotes Xuzhou, an old industrial base to forge ahead.
Xuzhou glories in XCMG's performance
On September 3, a big news was released in Beijing that XCMG ranked the Sixth in the world and the First among Chinese-funded enterprises in the World Top 50 Construction Machinery Manufacturers in 2019.
It's an amazing achievement of XCMG, and also an honor of Xuzhou.
Real economy is the lifeline for industrial cities like Xuzhou. The 100-billion-level construction machinery sector led by XCMG is not only one of the leading industries in Xuzhou, but also a shining business card for Xuzhou.
"XCMG For Your Success", a slogan of XCMG spreads throughout the country many years ago, expanding its popularity. XCMG is a symbol of Xuzhou's industry. The east of Xuzhou is replete with more than 20 XCMG branches, in which rows of golden crane arms soar into the clouds, like a layer of gold for the city.
Just like FAW in Changchun, Dongfeng Motor Corporation in Shiyan, XCMG is deeply integrated with Xuzhou. The first truck crane and road roller of China were produced in XCMG in 1960s, further consolidating Xuzhou's place as an industrial city. In 1989, as an example of national group reform, XCMG was founded, marking the new step of Xuzhou to deepen reform and opening up.
XCMG has made great achievements especially in recent 20 years. It also witnesses the course of growth of Xuzhou.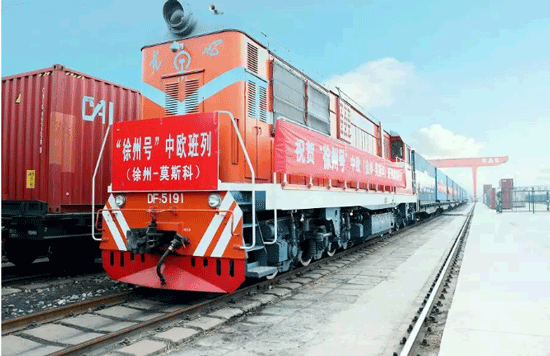 More than 700,000 construction machinery are sold in total; a crane is assembled and off the line per 25 minutes; 50% of mobile crane in China and 30% in the world come from XCMG.
Overcoming various technical difficulties by self-independent innovation, and developing more than 100 units of first-of-its-kind equipment, XCMG has manufactured 70 lines of products from 14 categories, showing the world its "core power".
Hanyun Industrial Internet Platform and life-cycle product management system reflect XCMG's "strength" in the information-based field.
……
XCMG's performance also makes Xuzhou more confident. As a founder, pioneer and leader in Chinese construction machinery industry, XCMG has set six recognized records, namely the longest history, the largest scale, the most complete crane product line and key components, the strongest innovation capacity, the maximum exports, and the highest international level.
"I have worked in XCMG for almost 47 years and acted as a leader for 20 years. I always want to build a world-class national brand in Xuzhou!" Wang Min said. As a native of Xuzhou, he loves his hometown and is determined to serve his motherland.
Cheer for XCMG and Xuzhou
December 12, 2017 is a date which will always be remembered by Xuzhou people since China General Secretary Xi Jinping came to XCMG for his first local visit after the 19th Congress of the Party.
"We must always attach great importance to the development and expansion of the real economy and should not turn to virtual economy and develop in a single way." "Manufacturing is the base for the development of real economy. At present, we need to focus on innovation-driven development, master key technology and apply them." ……General Secretary Xi motivates XCMG workers and guides XCMG's development.
At that time, the construction machinery industry was undergoing a period of deep adjustment. After the "golden decade" by 2012, the industry entered in "winter period". However, XCMG persevered to forge its skills and finally revived.
Living up to General Secretary Xi's expectation, XCMG ushers in its high-quality development. In 2018, XCMG realized its annual revenue of more than 100 billion yuan, with main operating incomes increasing by 41.2% year on year, total exports by 22% and profits by 89.9%. All indicators increased steadily in the first half of this year.
In January, Lou Qinjian, Party Secretary of Jiangsu Province, visited XCMG, and its production and operation, technological innovation, honors and market layout. He pointed out that what we can learn from XCMG is that it insists in innovation-driven development and competes globally with a world-class vision, makes its business stronger in a professional and refined way and develops with high standards and quality.
In February, Zhuang Zhaolin, Mayor of Xuzhou City, investigated XCMG and showed his support to develop XCMG and rapidly build it a world-class construction machinery manufacturer.
In March, Zhou Tiegen, Party Secretary of Xuzhou, introduced XCMG's product model when he was interviewed during the National People's Congress and Chinese People's Political Consultative Conference, acclaiming XCMG and the real economy of Xuzhou.
Last year, Xuzhou City launched 21 policies to accelerate the building of XCMG as a world-class manufacturing enterprise.
Wang Min was once asked, how does XCMG a municipal enterprise in the northern Jiangsu become a state-level manufacturer and take a place in the global industry? He said, "it mainly depends on the open-minded Xuzhou Municipal Party Committee and Xuzhou Municipal Government who fully authorize us to swim in the ocean of market economy.
Today, Xuzhou gives more support to XCMG. Zhou Tiegen said, supporting XCMG's growth is a political task to implement the instructions of General Secretary, a need to create a sample for the development of state-owned enterprises, and an important component of the industrial development strategy of Xuzhou.
XCMG is rising with a new face, and it will contribute more to Xuzhou. It's reasonably believed that Xuzhou is lucky to embrace an enterprise like XCMG, and XCMG is lucky to root in Xuzhou.
What's past is prologue. XCMG will continue to expand its market in five continents.
"Xuzhou" Sino-Europe train loaded with XCMG products started its first journey on January 18, 2019, offering a safe, efficient and convenient "through train" for trade between XCMG and its overseas customers.
Today XCMG has enjoyed great popularity all over the world. Starting from Xuzhou, XCMG has sold its products to 183 countries and regions, and established 4 R&D centers and 5 manufacturing bases in Germany, the United States, Brazil and other countries. In April this year, XCMG displayed 16 innovative products at the BAUMA Munich which is called the "Olympics" of construction machinery, and secured orders worthy of 100 million yuan. XCMG reached cooperation intention with two famous companies in Germany and Russia to march into high-end market in Europe.
It's the time for XCMG. With more opportunities and strong growth, Xuzhou contributes to XCMG's expansion to overseas market.
Xuzhou is following the requirements of the Jiangsu Provincial Party Committee to get rid of the way of thinking at prefecture level, the traditional development way as a follower and the burden as an old industrial base. Xuzhou should be visionary, setting an example for the development of low-lying land of the northeast Jiangsu, leading the Huaihai Economic Zone towards prosperity and supporting the construction of the Belt and Road junction.
The Jiangsu Provincial Party Committee and Jiangsu Provincial Government have proposed to build 13 clusters of advanced manufacturing industries including construction machinery, striving to develop 4 clusters with international influence by 2025.
In its new development planning, Xuzhou focuses on improving its position as a modern and international city, and makes its function layout more reasonably based on the maga-city function level.
XCMG aims to reach top five and three in 2020 and 2025 Global Construction Machinery Industry Rankings, respectively. At this point, Wang Min said, "Building a Chinese enterprise into a world-class one and mounting the Everest is the greatest loyalty and the best reward to the Party and the people!"
Both XCMG and Xuzhou are ready!