São Paulo Fire Corps Renews Fleet with Allison Fully Automatic Transmissions
Date:
2021-03-15
Source:
www.chinaspv.com
The São Paulo Fire Corps has had automatic vehicles in its fleet for over 20 years. Currently, 260 of its firefighting and emergency response trucks - out of 650 - are equipped with Allison fully automatic transmissions. This successful long-standing experience has recently led the Fire Corps to maintain the requirement for fully automatic transmissions as well as to acquire another 12 trucks through a bidding process. The VW Constellation 17-280 with the Allison 3000 Series™ fully automatic transmission won the bid to renovate the fleet.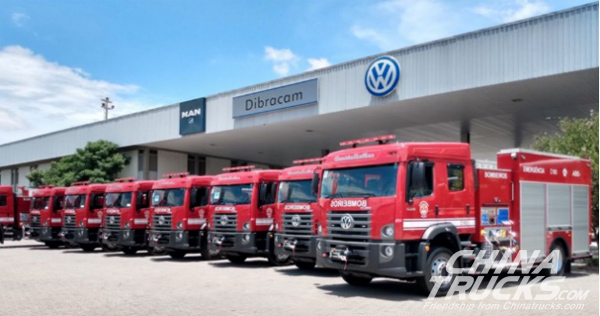 "Automatic transmissions have shown great efficiency, especially in terms of performance, safety and minimum downtime," said Lieutenant Colonel Wagner Giurni Gomes, Head of the Supply and Maintenance Center for the São Paulo Firefighters Operational Material. "The shorter response time in operational occurrences - due to the vehicle performance improvement - and the reduction of driver's stress and fatigue during their journey to respond to emergencies, increase safety during our work."
The new trucks, with the current effective standards and specifications will be used in different types of emergencies, such as, fighting fires and various types of rescue. The newly acquired vehicles are equipped with a 750 GPM fire pump, electronic foam system, 4,000-liter water transport tank, electronic pressure governor, electric fire hose reel and a water monitor cannon on the deck for fighting fires.
Lieutenant Colonel Giurni confirmed that very few activities demand reliability and operational precision as much as emergency response vehicles. Trucks equipped with Allison automatic transmissions are quite agile and can speed-up rescue teams to arrive at emergencies faster. The vehicles also provide greater fire-pump operation efficiency since they minimize speed and torque oscillations, ensuring a more efficient firefighting intervention.
"Automatic transmissions also guarantee greater safety and agility in urban traffic as well as maneuverability in places with restricted spaces, which increases the efficiency in handling emergencies. For all these reasons, we always try to prioritize the automatic transmissions in our new vehicles", said Lieutenant Colonel Giurni.
The São Paulo Fire Corps maintenance team also highlights the advantages of the Allison automatic transmission in terms of the fleet maintenance. The Allison automatics reduce the vehicle downtime, with vehicles only stopping for changing lubricating fluid and filters, therefore generating lower costs.
One of the highlights of Allison fully automatic transmissions as opposed to manual or automated manual transmissions in emergency response lies on the fact that Allison-equipped vehicles feature Continuous Power Technology™, which delivers power more smoothly and without interruptions. In addition, the torque converter multiplies engine torque when transferring it to the gearbox. This technology provides better starting, faster acceleration, and better vehicle traction and control.