SAIC Hongyan First CKD Heavy-duty Truck Went Offline in Tanzania
Date:
2021-06-21
Source:
chinaspv.com
June 16, 2021, Pwani, Tanzania, SAIC Hongyan's first CKD heavy-duty truck in Tanzania went offline officially. Pwani provincial government, representatives of SAIC Hongyan and dealers witnessed the important moment together.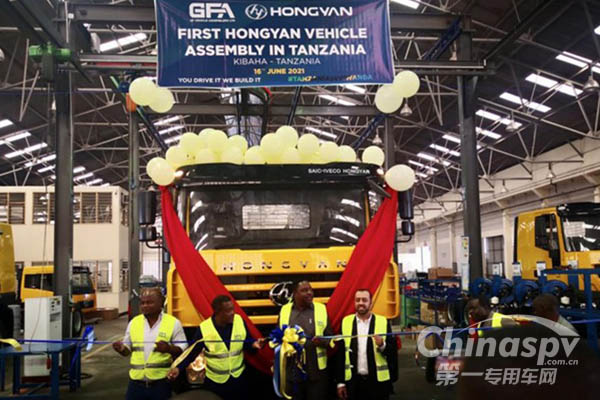 According to market data, Tanzania has very developed logistics industry, and meanwhile, local government pays high attention to infrastructure construction and imports over 2,000 units heavy-duty trucks from China every year.
As early as 2019, SAIC Hongyan has established dealership with Tanzanian customers and signed CKD assembly agreement officially in 2020. Faced with the epidemic, SAIC Hongyan expanded its export from products to CKD model "technique and product" and sent engineers to provide guidance and training to local workers.
On the site, Abubakari, governor of Pwani province, gave high praise to SAIC Hongyan. He said, "It is grateful for SAIC Hongyan to send engineers to guide and train our workers, which effectively increased worker' skills and cultivated vehicle assembly talents. SAIC Hongyan is an excellent enterprise in heavy-duty R&D and manufacture, and I hope that our factories can be as professional and outstanding as SAIC Hongyan after continuous development." At the same time, he also asked authorities at all levels to provide convenient working conditions for cooperative factories and support friendly communication between the two countries.
It is known that SAIC Hongyan's sales increased by 51% YOY in 2020 in overseas market and hit a record high. This year, SAIC Hongyan will continue to establish international marketing platform, strengthen overseas marketing service network construction, expand overseas market along the "Belt and Road Initiative", and build model cooperation market with refined service.