Auhawk Aumark Launched Cold-chain Vehicle Integral Solutions
Date:
2021-07-20
Author:
Nancy
Source:
chinaspv.com
July 20, 2021, Zhengzhou, China, On July 16, Foton Auhawk Aumark cold-chain vehicle with national VI emission standards integral solutions launch and super truck cold-chain logistics federation establishment ceremony was held in Zhengzhou, Henna. On the ceremony, Auhawk Aumark launched brand-new cold-chain vehicle integral solutions, which can guarantee complete upgrade in power technology and service in the premise of meeting national VI emission standards.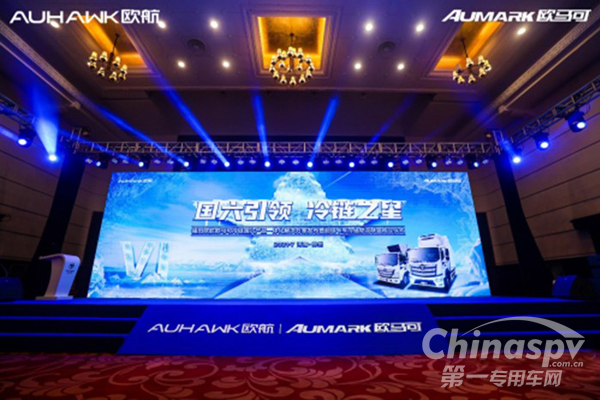 Auhawk Aumark "Cold-chain Star" achieves upgrades in five aspects relying on new generation technology platform, Cummins and ZF international advanced technology resources and national VI emission technology.
In terms of super power, it achieves engine-container-axle integration and lower fuel consumption by 5-10%;
In professional customization, it achieves chassis, refrigerator and container integration, which can reach effective transportation of cold-chain industry;
In feather technology, it decreases 500kg in self-weight and the license can be registered easily;
In intelligent network, it is equipped with car network platform and can provide effective fleet management and software upgrading;
In security and comfortability, aero seats and AMT automatic gear transmission ensure high maneuverability and comfortability.
Besides, the vehicles include 4.2-4.6m Aumark super light-duty trucks and 5.3-9.6m Auhawk super medium-duty trucks, which fully cover middle and long distance, suburb and city cold-chain market demands and provide users with integral solutions.