30 Units HOWO Hazardous Goods Tractors were Delivered to Rizhao
Date:
2021-08-06
Author:
Alice
Source:
chinaspv.com
August 6, 2021, Rizhao, China, Lately, Rizhao Ruiyuan 4S Store in South Shandong delivered 30 units T7 LNG hazardous goods tractors to a customer.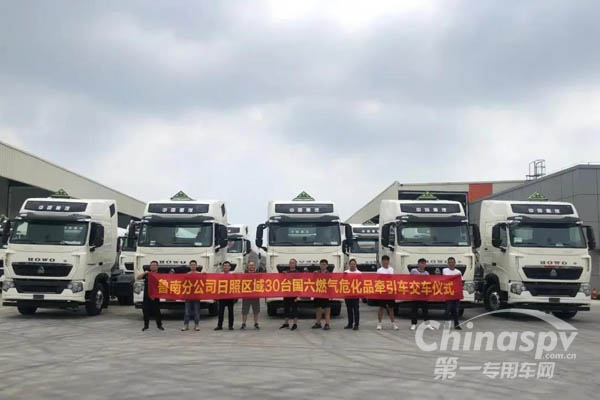 HOWO T7 tractors is equipped with MT13 460ph natural gas engine and MAN 11t double rear axles, which can consume less fuel with the most optimized power transmission mode. The four-direction camera, low wind resistance of driving cab and low rolling resistance tire increase driving safety. The tractor has lighter self-weight and can load more to increase profits due to Voith hydraulic retarder, which replaces the spray tank. And operation efficiency can be increased by extended braking and longer tire life span.
Sinotruk and dealers have always focused on customers' needs and made efforts to provide higher quality and perfect services.
China Special Vehicle News Recommendation
China Special Car Recommendation
China Special Car Parts
China Special Car Manufacturers