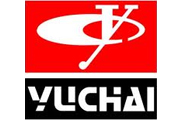 Yuchai Group
Founded in 1951, YUCHAI group is located in Yulin, Guangxi, which is enjoying the fine reputation of being "ancient prefecture for a thousand of years & city in the south of the mountains". Now it is possessed of 37 solely-owned, holding or equity-participating subsidiaries, employs a staff of 16000 and has total assets of RMB11.6 billion. Today YUCHAI group is the largest independent production base of diesel engines in the world and the largest manufacturer & exporter of the medium- & small-sized construction machinery in China, being known as "the Chinese capital of green power".
As a result of business development & accumulation for over 50 years, YUCHAI group has formed a whole series of concepts related to humanistic construction, including the core concept of "Green development & harmony in win-win situation", the enterprise's will of "Making YUCHAI a famous brand in the world, Building YUCHAI large transnational corporation", the outlook on talented people "Building high-quality troops of cadres, Forging creative group of laborers" etc. and so the enterprise is always trying to be outstanding and enjoys higher degree of social reputation and public honesty. YUCHAI group has won a lot of state-level honorable titles, such as "National Customer Satisfaction Product", "Chinese Famous Brand Product", "National Customer Satisfaction Enterprise", "Top 10 Chinese Honest Enterprises", "National Prize for Quality Management", "National Civilization Unit", "Chinese Famous Brand Product", "No. One Brand of Chinese Power Equipment" and so on.
The core business of the group is composed of six sectors, i.e. diesel engines, construction machinery, automobile parts, automobile chemical products, materials circulation & electromechanical products and special vehicles; meanwhile the group is also making outstanding achievements in fields such as hotels, tourism, real estate development and management etc. With an annual productivity and sales volume of 600000 diesel engines and 10000 units of medium- & small-sized construction machinery, YUCHAI occupies half of the high-grade diesel engine market in China and is one of the top three enterprises of Chinese road transport equipment. Over the past years YUCHAI honorably stands in front ranks among Top 500 Chinese Enterprises, Top 500 Chinese Famous Brands, Top 500 Chinese Machine-building Enterprises and Top 100 Chinese Automobile Parts & Components Manufacturers.
YUCHAI has accumulated a large number of experts and talents and built up a high-level research & development team. In 2007 the group set up the first Engineering Research Institute under the enterprise in the trade, defined the grand objective of "Construction of world first-class engineering research institute, formulated the institute precept of "Diligence, Creation, Quick-witted action, Compliance" and aimed at "Being source of power and cradle of everyone". YUCHAI has several platforms just like the State-level Enterprise Technical Centre, State Approved Laboratory, Enterprise Post-doctoral Scientific Research Working Station, Guangxi Small Highland of Power Talented People and so on. In cooperation with more than 40 famous scientific research institutions both at home and abroad, such as Qinghai University,Shanghai Jiaotong University and institutions from USA, Germany etc., YUCHAI has built an advanced R&D platform taking as the core research & development of technology on its own and supported by the European & American technology. In recent years the group has got two research topics included in the state "863" high-tech research program; participated in compilation of several state or trade standards; put on the market first diesel engines up to E-III , E-IV and E-V standards and ones for passenger cars; awarded the sole "Autonomous Innovation Achievement Prize" in Guangxi and is the unit ranking first among applicants for the patent in Guangxi and in the trade.
YUCHAI group's operation and business has already expanded to Asia, Europe, America, Africa, Oceania and established more than 30 domestic & overseas offices, over 40 branches, more than 1000 distribution centers or monopoly shops and over 2000 service network terminals. It has formed its own outlook on the market characterized by win-win deal, carried out active & follow-up service supported by YUCHAI Service System (YCSS) and 36 seated call centers, realized service radius of 40 km and spare parts supply through monopoly sale network within 24 hours and offered domestic & overseas customers with most professional, quickest & fully satisfactory after-sales service.
Upholding the road of green development of industry, considering technology as the guide, based on the product, talented people and operating mechanism and taking strategy, culture and property as the bonds, the group has pushed the enterprise forward uninterruptedly in a sound way by adopting the advanced information technology, introducing splendid performance results evaluation mode, implementing full staff operation and overall budget management, putting the brand strategy into practice and continuous reform & innovation. In recent years YUCHAI has achieved fast growth by an average annual rate of over 30%, creating the sole YUCHAI's own phenomenon in the whole trade.