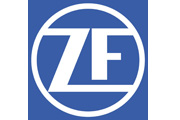 ZF
ZF is a leading worldwide automotive supplier for Driveline and Chassis Technology
ZF develops and produces products serving the mobility of human beings and goods. Innovations in Driveline and Chassis Technology provide increased driving dynamics, safety, comfort, and economy as well as lower fuel consumption and emissions in the vehicles of the customers: By land, by sea, and in the air.
ZF's main priority is to meet its customers' needs by using leading technology, quality, and service; this is the key to strengthening the international market position. In addition to the benefits of component expertise, the customer profits from the Group's system know-how.
The ZF Group is a decentralized company. Its divisions and business units operate independently and flexibly on the market; they are managed strategically and financially by the Group.
ZF plays an active role in society and is continuously engaged in a dialog with the public and its employees. The company promotes employees based on qualification, performance, work ethics, and mobility. The company assumes social and societal responsibility. Environmental protection is a professed corporate objective.