Hongyan Ranks among the Top Heavy Trucks Sales in September
The latest data released by China Association of Automobile Manufacturers (CAAM) shows that in September 2017, China sold 101,110 sets of heavy duty trucks (including LFN), with a year-on-year increase of 91.00% and month-on-month growth of 7.95%. And the top ten heavy duty truck sales amounted to 98331 units, accounting for 97.25% of the total. In September, heavy duty truck continued to maintain a good momentum of growth, with five heavy truck maker exceeding a sales volume of 10000 sets. Especially, FAW Jiefang and Dongfeng reached a monthly sales volume of 23,609 and 19,327 sets respectively. In a word, the top ten have all achieved a robust growth, five of which even achieve an increase of over 100%.The top one Hongyan, even reached a jump of 260.64%.
Sales Rank of Heavy-duty Truck in Sept.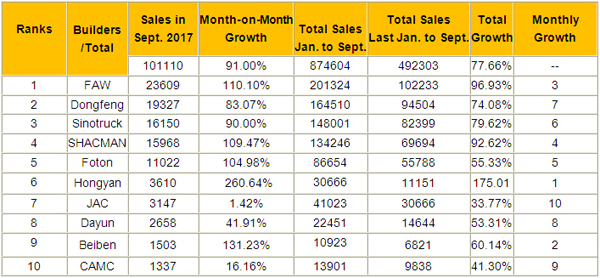 Data, also from CAAM, shows that the gross sales of heavy duty trucks from January to September hit 874,604 sets, with a 77.66% year-on-year increase and 382301 sets more than the same period last year. On the whole, the top ten truck makers have all realized various growths with Hongyan having the highest 175.01%. (www.chinatrucks.com)