FAW Jiefang Sold 237,500 Medium-and Heavy-duty Trucks between Jan. and Oct.
FAW Jiefang's sales continue to increase in October, brightening its prospect of attaining annual sales goals. In October, FAW Jiefang sold 19,500 medium-and heavy-duty trucks, however the cumulative sales during the first 10 months was 237,500, which was 90% of its annual target (264,000 units) announced at the beginning of this year.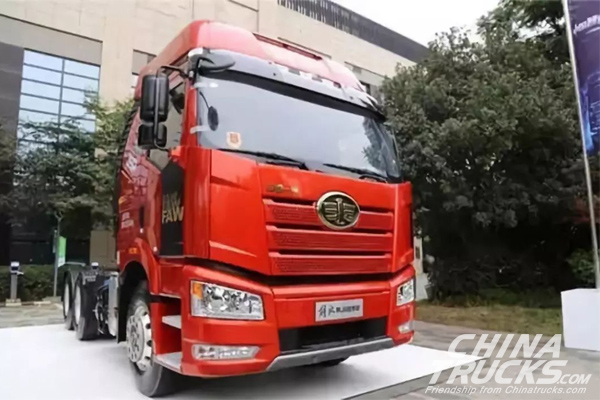 Against the backdrop of slowing domestic demand for medium-and heavy-duty trucks, the sales of FAW Jiefang in October totaled nearly 19,500, holding 22% of the total market share (91,200 units).
While between January and October, FAW Jiefang sold 237,500 units, up slightly from the same period a year earlier. It continues to lead the China medium-and heavy-duty market with a record high market share of 21% during the same period.
FAW Jiefang is not doing well in tractor market this year, but it continues its strong momentum with the support from other segment like dump truck and hazardous article transport vehicle and freight delivery trucks.
Apart from the contribution from different segments, its achievement can't be done without its innovative, reliable and customer-focused product. Mention product, we have to say FAW Jiefang's new seventh generation truck J7, which was officially unveiled on 27th October. This is a a world-class truck that can perform on a par with its counterparts in appearance, design, configuration and manufacturing.
Equipped with a 550-horsepower 13L CA6DM3-50E5 engine and a 1,000-liter oil tank, J7 truck is able to achieve a maximum torque of 2,600 N.m. Its vehicle control unit (VCU), which was independently developed by FAW Jiefang, helps the vehicle achieve much higher level of intelligence and fully meet the logistic requirements in the 21st century. In addition, the driver's cockpit offers a more comfortable working environment for drivers thanks to its better NVH performance, larger interior space and a host of amenities for drivers.
In freight trucks, Jiefang has launched 2018 edition of J6L with 45 technical upgrades to enhance its competitiveness. In its revelant weak dump trucks, it makes dumping easier by adding a complete solution for the dumping supervision to J6P intelligent muck dump truck. With regard to special vehicle market, Jiefang J6L special vehicle has been given updates in terms of power and weight; while improving reliability, it has greatly reduced the cost of operation, and has saw a rapid sales increase in regions like Henan and Shandong province. (www.chinatrucks.com)