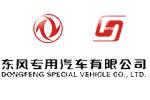 Dongfeng Special Purpose Vehicle Co., Ltd.
Dongfeng Special Purpose Vehicle Co., Ltd. is the wholly-owned subsidiaries of Dongfeng Automobile Co., Ltd. It is the research and development and production base for Dongfeng commercial vehicle container, dump truck, van and special minitary vehicle with 40 year history about thousands of commercial vehicle construction.
The registered capital of the company is RMB 120 million yuan, the company occupies an area of 150,000 square meters with over 90,000 square meters of factory buildings, it has 1200 staff members.
The production process is complete with total more than 1000 sets equipments, including etch, press, welding, coating, assembly, machining, etc. The annual integrated capacity of all kinds of converted construction has surpassed 20,000.
Not only is the special purpose vehicle produced in this company, but also the parts and components produced as well, such as, spare parts for carriage, parts of driving cab, etc.
Dongfeng Special Purpose Vehicle Co., Ltd. comply with the principles of "the converted vehicle stay focus on the customer" and "be responsible for society, family, and employee". It aims at creating the most valuable Dongfeng special purpose vehicle in China.