JAC High-end Shuailing Ⅲ Light Truck Released in Shanghai
www.chinaspv.com: JAC Shuailing Ⅲ high-end light truck is released in Shanghai on June 16, 2011. And the vehicle gets generally good reputations for the attractive price of 98,700 RMB since released in Shenzhen and Hangzhou in April.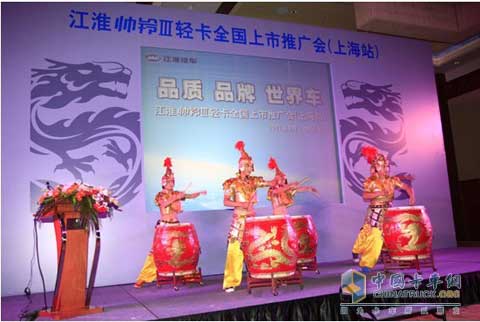 Sales of JAC light trucks exceeded 100,000 units from Jan. to May, and 10,000 JAC Shuailing trucks were sold in China, up 61%. And 2,000 JAC light trucks were sold in Shanghai and the figure were 7,000 units in Jiangsu Province.
JAC Shuailing Ⅲ high-end light trucks will be sold in standard 4S shops, and they will provide perfect services in pre-sales and after-sales.
  
The marketing networks of JAC Shuailing Ⅲ light trucks will extend to Pearl River Delta, Yangtze River Delta and around Bohai Sea district.