XCMG Showcases 30 Products at M&T St. Paulo Exhibition
www.chinaspv.com: From June 5-8, 2013, M&T is opened at St. Paulo Exhibition Center, Brazil. XCMG attends the Expo and showcases more than 30 products which are all sold out at the expo. This fully demonstrates XCMG's grand international influence and worldwide recognition.

M&T is the largest and most international engineering exhibition in Latin America. XCMG displays more than 30 products in its 4070-square-meter booth, covering hoisting equipment, earthmoving equipment and concrete equipment. Cross-country tyre crane RT70E and crane QY75KN give their debut in Latin American market to this expo.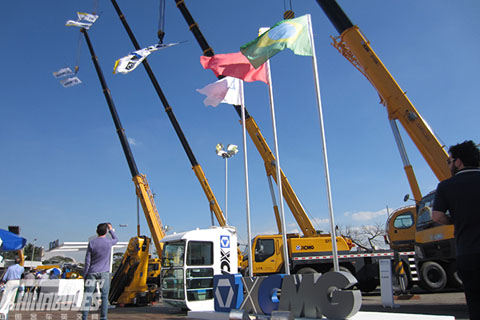 XCMG Booth

As the biggest exhibitor, XCMG is favored by many customers locally and in other Latin American regions. Dealers and users from Chili, Peru, Uruguay, Venezuela, and Colombia and so on speak highly of XCMG products and they reach many intended purchase orders.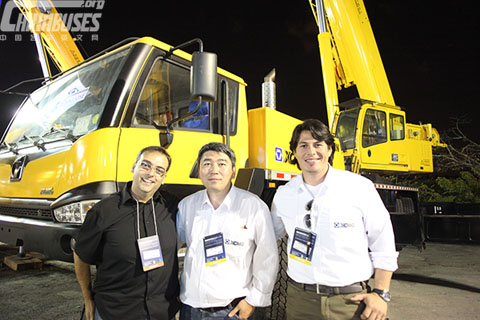 XCMG Star Products

XCMG, as the pioneer of Chinese engineering machinery exploring the global market, XCMG furthers its overseas market. In 2012, its export exceeds 1.3 billion USD, ranking first for 9 consecutive years. Brazil is a key market for XCMG's globalization. In 2012, the export to Brazil surpasses 130 million USD, maintaining an absolute advantage in market share.

XCMG's Brazil production base with an investment of 200 million USD is supposed to put into use this year. On the occasion of World Cup and Olympic Games, XCMG strives for more breakthroughs in Brazil market relying on local production, perfect sales network and after-sale system by improving customer service quality, enlarging sales and technical systems, introducing new products, enhancing technical training, etc. At the same time, XCMG's offices in Latin America will work closely to facilitate XCMG St. Paulo to integrate sales, spare parts and service into a whole covering the whole Latin America continent.