41 Faw Jiefang Crane Chassis Exports to Japan
www.chinaspv.com: The second batch of 55T Kato crane chassis, 13 units, goes out of Faw Jiefang Changchun Special Vehicle Branch to Dalia port with realizing overseas strategic dream and confidence. They would arrive to Japan very soon. So far, Faw Jiefang Changchun Special Vehicle has already exported 25 55T Kato crane chassis to Japan with 16 units left to be exported. This stands for a big improvement of Changchun Special Vehicle in overseas market as well as a result of implementing mass line in the practice.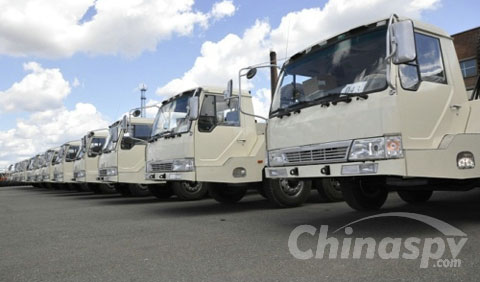 To achieve the goal of Challenging 13, 14, 15 Units, Faw Jiefang Changchun Special Vehicle put developing overseas market as a breakthrough of increasing sales at the beginning of this year. In addition, detailed overseas developing strategy is arranged. It is for 3 years that Faw Jiefang Changchun Special Vehicle has been cooperating with Japan Kato in manufacturing crane vehicles. In 2013, these two enterprises signed a purchasing order of 41 55T crane chassis.

In order to deliver these 41 55T crane chassis to Japan, leaders of Jiefang Changchun Special Vehicle requires the Kato project team to reflect the mass line spirit in the process and seriously find different problems during the assembly. Kato team members should find and resolve the problems in time, organize, assemble and check meticulously to let the Japanese staff in Changchun Branch feel the professional working attitude and considerate service quality. And that's how the Kato team performed during the process. Guided by Sun Yongjun, deputy chief engineer, they overcame high temperature and sweltering summer to complete steering crisscrossed tire rod end, steering booster, expansion tank and so on. The vehicular quality realized a qualitative leap and was up to Japanese quality standard, which was approved by Japanese staff in Changchun Special Vehicle. The first 12 55T crane chassis were delivered to Japan at the middle of July with the rest delivered in September.

These 41 55T crane chassis export would realize sales of 8.17 million Yuan, enhancing the increasing goal of the enterprise.

What's more, Faw Jiefang Changchun Special Vehicle proceeded to hold trade negotiation and discussion with automobile dealers of Georgia, Russia and South Africa for continuing expansion of overseas market development.