Yuchai 30,000-Engine Remanufacturing Project Passes 2nd Acceptance
www.chinaspv.com: On Nov. 13th, Yuchai 30,000-engine remanufacturing 2nd acceptance conference was held in Yulin Hotel, where representatives of NDRC, CAIA, ADRC and Yulin Development and Reform Commission were all present. This conference was hosted by Yao Xin, director of Recycling Economy Department of NDRC. Chen Shijun, GM assistant of Yuchai, and Li Xiao, president of Sanfa Plant, both stated on this conference.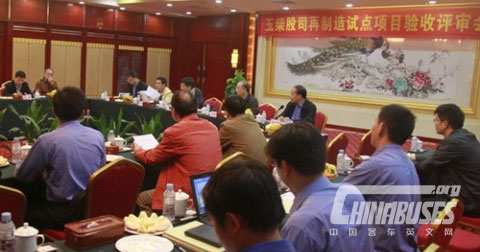 Conference

China automobile parts remanufacturing pilot began in March of 2008. 14 enterprises were selected by NDRC to begin parts remanufacturing pilot process. Yuchai was listed as one of remanufacturing acceptance pilots. In past acceptances, expert team gave good advice and suggestions to Yuchai in building of quality management and control system, layout design of independent production line, remanufacturing logistics collective system, building of remanufacturing product selling network and using condition of national remanufacturing mark. For this time, experts put much attention on further check and inspection of relative improvements of Yuchai in these five parts mentioned above.

Yuchai reported Yuchai 30,000-Engine remanufacturing project process on the conference. Since established in 2005, this remanufacturing project got the first batch of national automotive parts remanufacturing enterprise pilot certificate in 2008. Through 6-year exploration, engine remanufacturing project has been built with annual capacity of 30,000 engines and remanufacturing parts. Implementation of the project can create economic profit of 140 million Yuan, more than 300 jobs, save over 1,600t standard coal and decrease 4,800t carbon dioxide emission.