Higer School Bus Serves Left-behind Children School in National Poor County
www.chinaspv.com: Zinan School in Sheqi County is a private boarding school, where most of the over 1,000 students are left-behind children in rural and mountainous areas in Sheqi County. School cares much about these left-behind children by building this school as a happy harbor. For these recent years, Zinan School leads in school management, teaching and research and serving students within Sheqi County, gradually becoming a flag of education in Sheqi County and gaining praise of all sectors of society and parents. However, the school was used to using non-professional social vehicles to pick up students which made Wang Qingyun, the director of the school, worried about students' safty every time. In order to make students go to school and back home safely, Wang Qingyun went hither and thither to raise enough funds under social caring people for purchasing 11 Higer safe school buses. Apart from these buses purchased, he established Sheqi Higer Caring Bus Service Company to ensure safe picking up of Zinan School and attempt to serve other schools in Nanyang district. Such a new school bus operational mode provides efficient supply line for this life road.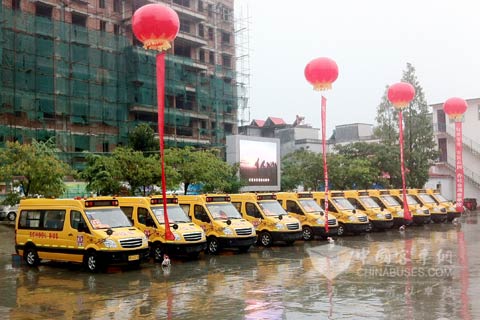 Higer School Bus in Left-behind Children School in Henan Sheqi County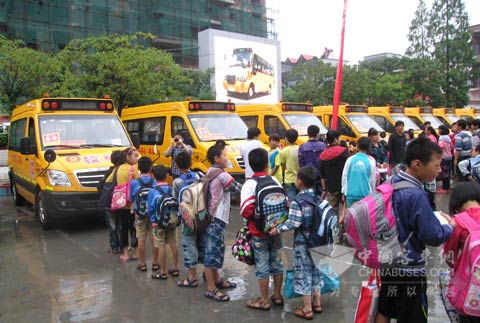 Children About to Take Higer Caring Bus to Go Back Home

These 11 Higer school buses are all of long-front structure and cage-type full load structure, efficiently improving security of school bus. Higer school bus adopts robotic welding technology to improve precision and integration and to ensure school quality and security. The setting of cathodic electrophoresis enhances antiseptic property and makes the bus not easily rusted. Higer G-BOS intelligent operational system school bus version makes administrator informed of operation and driving of school bus to achieve safe management.

Students' security comes above everything. For now, no detailed implementing procedures exist in school bus security rules, no supporting measures are regulated in school bus safe operation and there is the problem to get school bus registered. School bus security can not be indeed implemented and ensured. Sheqi Government takes the responsibility to open school bus green road for children. Wang Qingyun shoulders life road between school and home. We expect that more and more social power to pay attention to our children and safe journey on the road. We expect to build this life road jointly and make more children take the safe and comfortable school bus and grow up healthily.