Asiastar "Qi Ming Xing" School Bus Delivered to Yancheng
www.chinaspv.com:Recently, a batch of Asiastar "Qi Ming Xing" JS6100 school buses were delivered to Yancheng, serving Yancheng students with safe and reliable protection.

Asiastar's modern plants and advanced production technology laid an excellent foundation for its superior quality products. In addition, Asiastar school bus has always been adhering to safe and reliable design and manufacturing philosophy, wining customers compliments.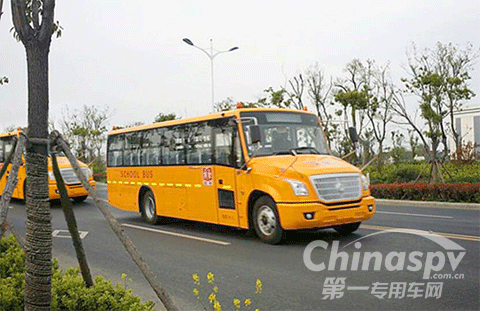 Asiastar "Qi Ming Xing" school bus JS6100 attracted great attention since it entered the market in last October. Earlier this year 30 of its school buses were delivered to Qingdao, well reviewed by the operator as well as the students.

The 10-meter-long Asiastar "Qi Ming Xing" long-head school bus series, with a number of security technology patents, fully meet China's new national requirements for school buses. Some of its relevant technical standards even reached the international leading level, guaranteeing the travel safety for students. JS6100 school bus has the classic outlook like the European and American long head school buses, its collision energy absorbing buffer, panoramic look-around and parking instructions arm all enhancing students' safety.

Safety is of the greatest importance for school buses. Asiastar "Qi Ming Xing" school bus series strive to ensure the safety of students in many ways. The bearing components of its body and chassis apply a closed-loop structure, with denser skeleton structure. It is also equipped with a system of fuel tank anti-explosion, fire prevention, overturned leakage control, multi-channel escape security, high-strength side-impact reducing, tire pressure monitoring, compartment smoke detectors and so on, to better ensure the safe and reliable operation of the school bus.