100 SAIC MAXUSV80 Express Vehicles Delivered to SF Express
www.chinaspv.com: SAIC MAXUS signed strategic cooperation with SF Express on April 28, 2014, and SAIC MAXUS will deliver 100 V80 express vehicles to the express giant.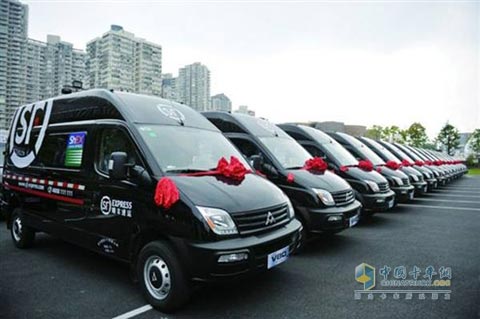 SAIC MAXUSV80 city Express vehicles feature strong power, high fuel economy, strong carrying ability and great safety settings. And its engine is 136 hp and it consumes 6L for 100 km. The storage are refitting high ceiling vehicle is 11.4 cubic meters and it can carry goods for 1.7 tons. The vehicle has passed national compulsive test and reached the highest four star among C-NCAP, and it is also the first commercial vehicle brand which passed the rollover test as light bus. It is worth mention that telematics system is equipped in the vehicle so that the bus fleets can be managed effectively.

Over the three years since founded, SAIC MAXUS has developed rather fast, and their market shares are 8%, ranking leading light bus brand in China, and they have exported to over 22 countries and regions, ranking the first among exports of China European style wide body light bus. SAIC MAXUS has signed cooperation with many companies including JD Online Store, China Post etc. SAIC MAXUS city light buses serve city logistics and transport very well.