Changan Formally Launched New School Bus 2014
www.chinaspv.com
: Changan Bus formal launched the new school buses recently, which realizes the upgrading in four respects and increase seats from 18 to 19 units, striving for making new classic model of high cost performance.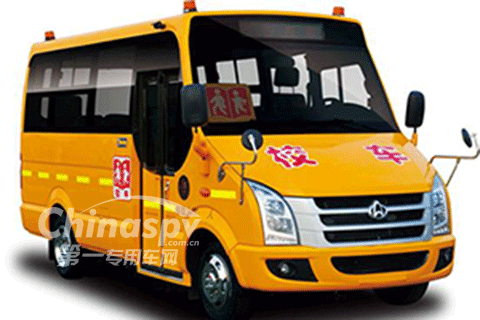 New Changan school buses are updated in safety facilities, such as the installation of automatic fire extinguishers in the engine cabinet against of the possible spontaneous combustion. Additionally, luminum foil is coated to prevent noise and heat to guarantee safe traveling in summer. Regarding smart technologies, Ansing smart operation system records real-time data of running and supports the monitoring of children's safety inside the bus. Apart from the national safety test, the new buses not only pass through the first single real-person rollover test in China, but also the all-around collision test together with Tsinghua University, including font, side and rear faces, in reference of the similar test on cars.

New Changan school buses are updated in comforts. Both driver's seat and control panel comply with ergonomics, relieving drivers' tension and fatigue for long time operation, except chairs decorated with new environmental fabrics, seat belts with standard double colors and the continuous cartoon patterns.

New Changan school buses are updated in fuel economy and environment protection. The second generation of RMB fuel saving system, newly developed, effectively reduces fuel by 15%, with partnership of Tsinghua University. Generally speaking, it save costs of over 50,000 Yuan RMB upon the premise of the life service of a school bus of 15 years. Advanced cathode electrophoresis strengthens the anti-corrosion of the whole vehicles, leading to the extension of service life and less costs.

Changan Bus always provides the special service for school bus users for years. Relying on the wide range of service network, Changan school buses are supplied with after-sales service within over 690 service outlets in China, broadly covering the remote areas.