FAW J6 Dump Trucks Launch in Changchun City
www.chinaspv.com
: On 14th Mar.2015, the launching and promotional event of FAW dump trucks was held in Changchun Conference Center in Changchun and this is the first promotion activity of this builder since the Spring Festival holiday. 6x4, 8x4 heavy-duty dump trucks, two models, were exhibited on the scene where sales representatives explained around the vehicles, asking the potential customers' questions. Besides, the builder organized the trial driving to enable clients fully experience the good performance of FAW trucks.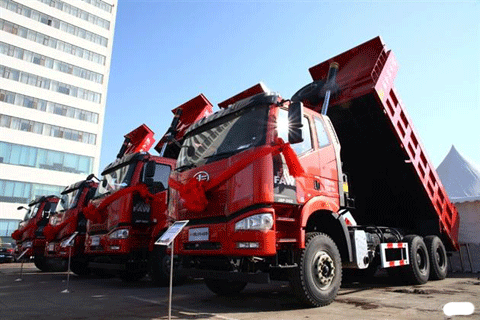 Based on exquisite quality and clients' trust, FAW J6 trucks occupy the leading position in the segment market in the Northeast China. It is known that the current dump trucks all are applied with the unique monoblock pump technologies (China Ⅳ) supporting the independent oil pump replacement and easy maintenance of nozzle tips. Reliability greatly enhances through the matching of the original transmissions and rear axles.
In China, FAW owns more than 600 professional service stations, covering the service radius of less than 50km to make sure the convenience, as well, supplies the special guarantee measures for dump trucks, including free pre-sales checking and house inspection for three times.