BYD ShowcasesIts EV Might at Beijing's World War II Military
www.chinaspv.com: China's attention –and much of the world's –wasturned to the huge military parade in Beijing's Tiananmen Square celebrating the 70thanniversary of the end of World War II on September 03, 2015. The paradeopenedwith the city's fleet of newly acquired BYD T8SAelectricroad sweepers–built by BYD and Beijing Environmental Sanitation Engineering Group Ltd., the body responsible for the city's sanitation. This is the first time a military parade is held to commemoratethe event, in a move to showcase not only China's military might, but also the importancethe country places in sustainability and the advancement of its domestic green technologies and manufacturing.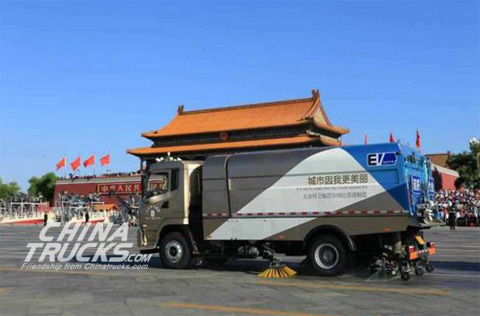 Brave soldier: The BYD T8SA on duty in Tiananmen Square

The BYD T8SAis a pure electric truck specifically designed for urban sanitation–with zero emissions, low noise and low heat radiation, it sweeps widths of up to 3.5 meters, has a maximum speed of 85km/h, 350Kwh power batteries that fully charge in just 3.5 hours and grant the vehicle 7 hours of continuous operation.Altogether, such features can greatly optimize a city's cost and emission reduction targets, thus proving the ideal choice for Beijing.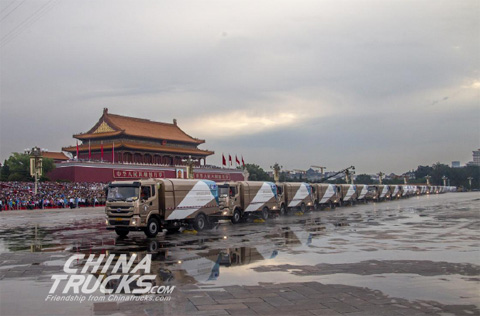 The fully electric BYD fleet of sweepers makes sure the parade grounds are spotless

With increasing worldwide environmental pressure and the everlasting fossil fuel conundrum, countries at large are adopting incentive policies to reduce consumption of fossil fuels and promote alternative energy sources, with China taking the lead on all levels with city, province and country policies that set clear emission and electrification targets for the near future. As a result, companies at large start devising ways to contribute to the government's tall order –BYD has developed its 7+4 electrified transportation strategy, in which it is set to provide electric vehicles for every transportation need. There are7 vehicles for conventional fields: Transit Buses, Coach Buses, Taxis, Logistics Vehicles, Construction Vehicles, Waste Management Vehicles–the category of Beijing's T8SA –and Consumer Vehicles; and 4 vehicles for specialized fields: Warehouse Logistics Vehicles, Mining Utility Vehicles, Airport Utility Vehicles and Sea-port Utility Vehicles.