Sinotruk Wangpai Trucks March into the High-end Market
www.chinaspv.com: On 29th Aug, 2015, Shi Jianli, deputy executive general manager of Sinotruk Wangpai unveiled the red cover of one medium truck in Shijiazhuang with Chen Jing, deputy general manager of Marketing Company of Sinotruk Wangpai. That means the formal launching of Sinotruk Wangpai 7 Series, trucks equipped with MC05 engines with MAN technologies in the market. Almost 200 people witnessed the ceremony: from logistics, using companies to media. 35 units have been ordered at the release press.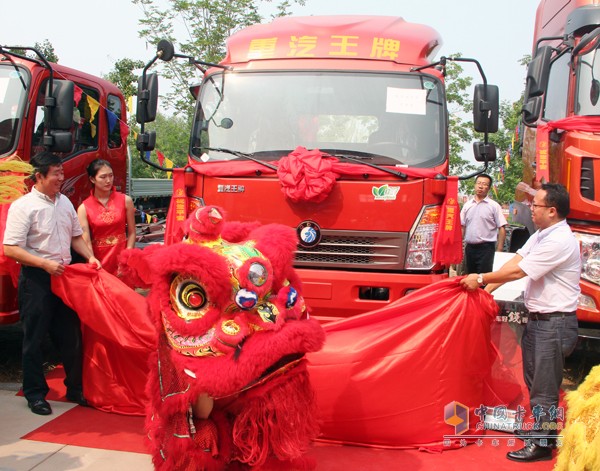 At the press release, Shi Jianli introduced that"We own the biggest production base of commercial vehicles in Western China. We have manufacturing experience of trucks for 28 years. This series fully adopt and utilize the advanced development technology and affiliating resources by Sinotruk Group. Based on the established product development , where the MC05 diesel engines powered by the world leading German MAN technologies, the brand- new generation of high-end medium trucks is equipped with integration of various strength and huge capital investment is its R&D."

It is learnt that this series has been trial promoted in Sichuan, Guangdong, Guangxi, Hebei and Henan before the formal launching in Shijiazhuang. According to the customer feedback, at least 20,000 Yuan can be saved per year if one drives 400km daily, 328 days annually and 6.5 Yuan per liter for the fuel price.