Allison Automatics Clean up after Nearly 100,000 Visitors Daily at Expo 2015
www.chinaspv.com: With nearly 100,000 visitors attending daily, Expo 2015 is not only a historic event for Milan, but also a huge challenge for Amsa, which manages refuse collection, street cleaning and environmental services for the city. To meet these demands, 55 new Iveco vehicles were added to Amsa's fleet, 60 percent of which are equipped with Allison fully automatic transmissions.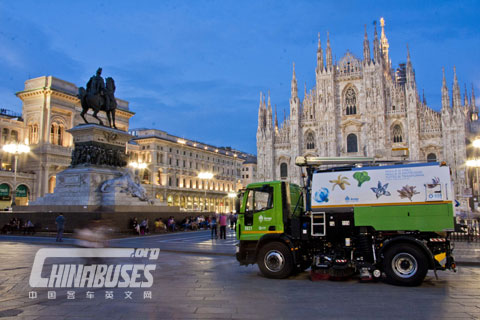 A total of 33 additional Allison-equipped Eurocargo sweepers, refuse compactors and Stralis heavy refuse trucks were added to Amsa's existing 400-vehicle Allison Automatic fleet. Iveco Dailys, Eurocargos and Stralis are used for street cleaning in central Milan, as well as refuse and organic waste collection in areas surrounding the Expo.

"The fully automatic transmissions mean reduced maintenance and increased vehicle availability, particularly in severe duty cycle applications like refuse collection, which requires constant stops and starts," said Mauro Colombo, head of engineering and vehicle maintenance for Amsa.

"For us, it is fundamental to have an efficient fleet needing limited maintenance and avoiding break downs, since downtime significantly affects the service schedule and operative results," said Colombo. "Amsa's fully automatic technology choice was made to ensure maximum service availability during such an important time for Milan."

Consistent with Expo 2015 sustainability theme, the vehicles are all powered with alternative fuels. Alternative-fuel engines are more responsive when joined to an Allison Automatic, because the patented torque converter technology multiplies engine torque to significantly improve startability and launch – even on steep grades. Excellent vehicle performance and productivity are always available, to ensure more work gets done in less time.

"Allison has a highly cooperative relationship with Amsa's Engineering department, which has a technological far-sightedness that allows us to work toward dedicated solutions, sometimes tailor-made for them," said Simona Pilone, manager of OEM relationships for Allison in Italy. "Allison and Amsa share a strong desire to learn from each other allowing us to evolve features and technology that provide real value."

Efficiency and sustainability are fundamental values for Amsa, but events as large and important as the Expo draw a lot of attention and preparation was key for the city. "We have been working hard to be ready for Expo, in terms of organizing services and purchasing the necessary new equipment, tools and vehicles," said Colombo. "All is going as planned, and we are very happy with the work we have done."

However, efficiency and sustainability were not the only factors taken into account by Amsa. Driver satisfaction was also emphasized as both a priority and an advantage Allison Automatics deliver. Unlike manual transmissions, Allison Automatics allow drivers to concentration fully on operation, while reducing fatigue.

"I have been working with Allison-fitted trucks for over 5 years now, and I have never had a problem," said Luigi Franza, municipal organic refuse collection operator for large consumers. "The truck is very easy to drive and perfect for maneuvering on the narrow streets of Milan's city center, where you must pay attention not only to traffic, but also to pedestrians. You don't have to worry about changing gears, and you aren't worn out at the end of the day."