Go Plant Goes with Allison Transmission for New Road Sweepers

www.chinaspv.com: Provider of operated and self-drive specialty vehicles orders 15 new DAF LFs equipped with Allison 3000 Series™ transmissions to reduce fleet maintenance costs TELFORD, U.K. – Go Plant Ltd., one of the U.K.'s leading providers of operated and self-drive specialty vehicles, recently selected the Allison 3000 Series™ fully automatic transmission for 15 new road sweepers.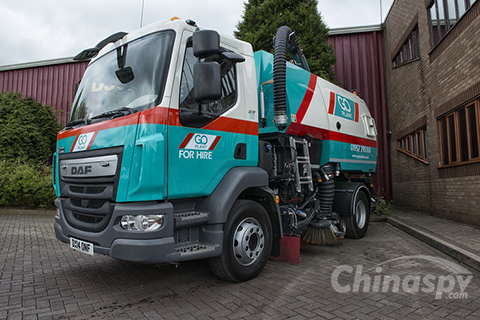 "We've upgraded to the Allison transmissions because of the reduced lifecycle costs and the improved vehicle driveline – something which inevitably suffers a high level of wear and tear during road sweeping activities," said Aiden Garvey, regional manager for Go Plant.

Manufactured by long-standing body-builder Johnston Sweepers, the vehicles are based on the Euro 6 DAF LF 220 chassis supplied by DAF dealer Greenhous.


Go Plant specified the Allison fully automatic transmissions to reduce driveline maintenance expenses previously experienced with automated manual transmissions (AMTs). The order is just part of a major investment by Go Plant, which has ordered 48 new vehicles in the first quarter of 2015 alone.

"With a growing range of high-specification vehicles maintained to the highest of standards, we pride ourselves on providing tailored and flexible solutions for our customers – whether they require contract, short-term rental or operated hire," said Garvey. "It is therefore imperative that our vehicles are on the road as required."


Go Plant's fleet of over 300 road sweepers operates all over the U.K., cleaning construction sites, roadwork projects, factories and haulage yards for both private and public sectors. The vehicles often work around the clock in arduous stop-start conditions, travelling at an average speed of 3 mph when sweeping. The Allison torque converter provides smooth shifting even at very low speeds, and as a result, operation is simple since the driver only has to be prepared to brake when needed.

"Our vehicles need to be robust and reliable, regardless of the different drivers that operate them and their varying driving styles," said Garvey. "We have found Allison transmissions to be very easy to use and look forward to seeing the new vehicles on the road in July."

About Allison Transmission

Allison Transmission (NYSE: ALSN) is the world's largest manufacturer of fully automatic transmissions for medium- and heavy-duty commercial vehicles and is a leader in hybrid-propulsion systems for city buses. Allison transmissions are used in a variety of applications including refuse, construction, fire, distribution, bus, motorhomes, defense and energy. Founded in 1915, the company is headquartered in Indianapolis, Indiana, USA and employs approximately 2,700 people worldwide. With a market presence in more than 80 countries, Allison has regional headquarters in the Netherlands, China and Brazil with manufacturing facilities in the U.S., Hungary and India. Allison also has approximately 1,400 independent distributor and dealer locations worldwide. For more information, visit allisontransmission.com.

About Go Plant

Go Plant Limited is a U.K. leader in the provision of operated and self-drive specialty vehicles. The company provides vehicle hire across the U.K. and solutions in contract, short-term rental and operated hire from its head office in Leicestershire and various service centers across the country. The business has built its renowned reputation by consistently providing the best service delivery and optimum levels of utilization, with high specification vehicles operated by comprehensively trained drivers. Go Plant places a real emphasis on working in partnership with its customers and can offer tailored solutions to suit any requirements, all at competitive rates.