Sinotruck Delivers First 5 Units of Oil Tanker to Saudi Arabia
www.chinaspv.com: Recently, Sinotruck Liuzhou Yunli Special Vehicle Co., LTD takes a delivery of 5 units of aluminum oil tanker to a Saudi Arabia company.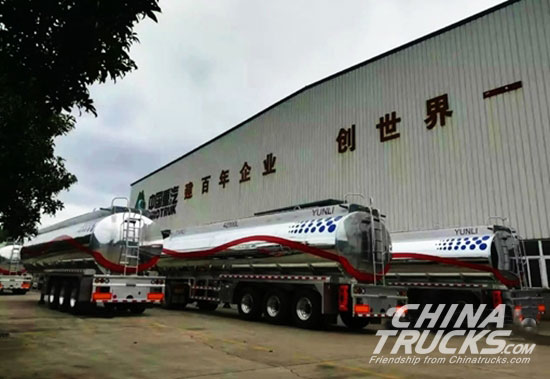 Sinotruck Liuzhou Yunli has a workshop for tanker production and its own transport team to carry out a wide range of business. After building trust and credibility with its Saudi customers by manufacturing products with excellent quality and exquisite manufacturing technology Sinotruck Liuzhou Yunli receives the first 5 units of oil tanker from its Saudi Arabia customer. The delivered vehicles will be used for transporting diesel in Saudi Arabia, which makes a good start for Sinotruck Liuzhou Yunli in penetrating Saudi Arabia Market in future.
China Special Vehicle News Recommendation
China Special Car Recommendation
China Special Car Parts