Zhengzhou Nissan Rolls Out the 1,000,000th Vehicles
www.chinatrucks.com: On May 8, the first of the new model Navara pickup, as well as the 1,000,000th whole vehicle produced by Zhengzhou Nissan, had just rolled off the production line in Zhengzhou assembly plant.
Zheng Jiakun, General Manager of Zhengzhou Nissan, says that "Nissan has reached a significant milestone by producing its 1,000,000th whole vehicle, and it also represents a new beginning for our next step."
The production of one million whole vehicles is a process in which Zhengzhou Nissan has been constantly launching benchmarking products for the market. From the first pickup to 13 ranges, from single product type to three segments including pickup, SUV and CDV, from one brand Nissan to two brands, Zhengzhou Nissan gradually becomes the industry-leading company in Chinese high-end pickup and off-road SUV markets through several steps to produce 50,000 units, 100,000 units vehicles.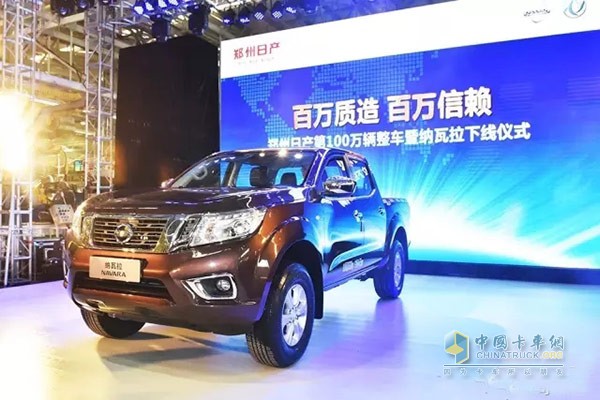 During the offline ceremony for the 1,000,000th untis, the first "high-end SUV pickup" of Zhengzhou Nissan, Navara, is also officially offline and attracts much attention. Navara had been very eye-catching since its debut at Shanghai Autoshow in April this year.
Navara, as the most glorious accomplishment of Zhengzhou Nissan after years of inheritance and craftsmanship, is a new benchmarking product in pickup industry due to fashionable and aggressive exterior, the only 7AT transmission in its segment, and unprecedented comfortable driving experience. It is a perfect ending for the one million whole vehicles and also creates a higher starting point for future products in next stage.
The assembly line in Zhongmu plant in Zhengzhou province has long been considered as one of the greatest production lines utilizing the highest technology. This can be an initaiative in China to assemble several distinct models, no matter with unitary construction and separate frame construction, on the same assembly line. It is also the third mixed-model assembly line in the world. With the advantage from production line, production and manufacturing level are greatly enhanced, delivering Zhengzhou Nissan's excellent quality.