First Batch of Yuchai YC-9 Excavators Shipping off to New Zealand
www.chinaspv.com: Recently, 6 units YC-9 excavator from Guangxi Yuchai Heavy Industry Co., Ltd. (hereinafter referred to as Yuchai Heavy Industry) are successfully shipped to New Zealand. Its agency in New Zealand DIGGALINKLTD will display these products in 2017 Auckland Engineering and Agricultural Machinery Expo, which is one of the largest expo held every year in New Zealand and attracts more than 1,000 exhibitors from several countries in Oceania on its over 300,000 square meters venue.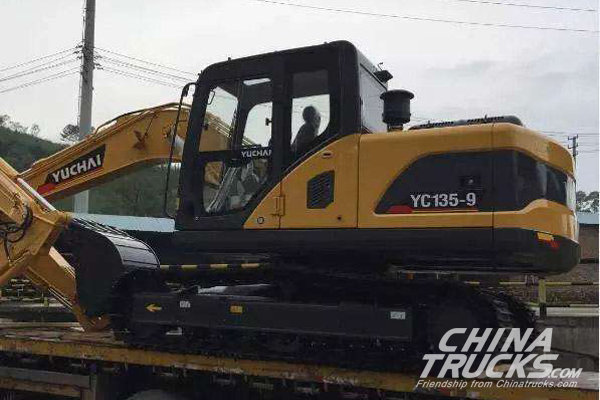 Mr.JOHNGILTRAP,, Chairman of DIGGALINKLTD. operates in person YC135-9, YC85-9 and other new products when paying visit to Yuchai Heavy Industry and is quite satisfied with -9 products in terms of design, operation and performance. He believes -9 products are quite superior and competitive after a great deal of improvements was made in exterior and operation and then signs the import agreement with Yuchai Heavy Industry on -9 products.
As the delivery date is between Yuchai Heavy Industry's busy production period when the market is in great demand and demand exceeds supply. In order to make sure the delivery made on time and not lose one order, International Trade Department closely works with Engineering Machinery Department and Production Department to realize the fastest output after receiving the order, preparing supply and arranging production. Every department is trying the best to run against the time. The production department even works overnight. Finally, with the great support from related departments, the machines are able to deliver to customer on time who will display the products at the coming expo. This wins great praises from customer.