JAC Oman Distributor Hosts Trucks Roadshow
Towell Auto Centre (TAC), the exclusive distributor of JAC vehicles in Oman, organised a four-day JAC Trucks Roadshow in the Ma'abela Industrial Area, from 9am to 6.30pm. It received an enthusiastic response with the JAC Titan Single Cabin, JAC Titan Double Cabin and Water Tanker on display. Prospective customers appreciated TAC reaching out to them and the one-to-one interaction with the sales staff.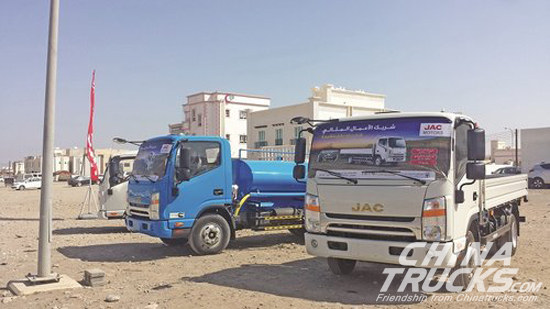 Coinciding with the JAC Trucks Roadshow, Towell Auto Centre is offering amazing Cash Gift offers on their versatile Light Duty Driving License Trucks. The attractive cash discounts are exclusively for the JAC Titan 3.5 tonne Single Cab and the JAC Titan 3 tonne Double Cab truck.
After deducting the Cash Gift amount, the JAC Titan 3.5 tonne Single Cab comes at an unbelievable price of RO8,000, and the JAC Titan 3 tonne Double Cab at RO6,900. Both trucks have an unbelievable RO2,500 cash discount on them, while having the flexibility and versatility of being fitted with water tank, freezer, chiller, recovery, cargo and open load applications. The cash gift offers run till March 9.
With the powerful performance of a turbo charged Cummins ISF 3800cc diesel engine, combined max load capacity of 6,500kg and elegant design, the JAC Motors Titan 3.5 tonne Single Cab and JAC Titan 3 tonne Double Cab are reliable transportation assets for business owners in Oman.
According to a spokesperson of Towell Auto Centre (TAC), "The JAC Titan 3.5 tonne Single and JAC Titan 3 tonne Double Cab are useful for various industries like dairy products, construction and farming. In addition to being sturdy, durable and having impressive fuel efficiency, JAC Titan trucks meet the international standards for safety and stable road performance. With comfortable driving interiors, these trucks without a doubt would be powerful and versatile additions to any fleet and a trusted business partner."
JAC Motors Trucks, which are available in Oman at Towell Auto Centre (TAC), are built and integrated with superior technology to meet the needs of its drivers across varying road conditions.
Customers can have a look at the JAC vehicles they are interested in, as well as have any queries answered by the sales experts, at the Towell Auto Centre showrooms located in Ghala, Barka, Ibra, Ibri, Nizwa, Salalah, Sohar and Sur.
Today, as the number one commercial vehicle brand in China, JAC Motors has exported products to South America, Europe, Africa and Asia, and it has established friendly relationships with more than 130 countries worldwide. Additionally, JAC has more than 100 overseas 4S shops and 19 KD factories. In the international market, JAC has formed its competitive edges in both commercial vehicles and passenger cars. In doing so, it has effectively enhanced the brand images of both JAC and Chinese automobile products worldwide.