FAW Jiefang and Continental AG to Jointly Build Internet of Commercial Vehicles
On March 2, FAW Jiefang, the champion of the sales of medium- and heavy-duty trucks for two years in China, signed a cooperation agreement with Germany-based Continental AG for jointly building and operating internet of commercial vehicles. Hu Hanjie, president of FAW Jiefang and Dr.Michael Ruf, CEO of Continental AG, were present at the signing ceremony.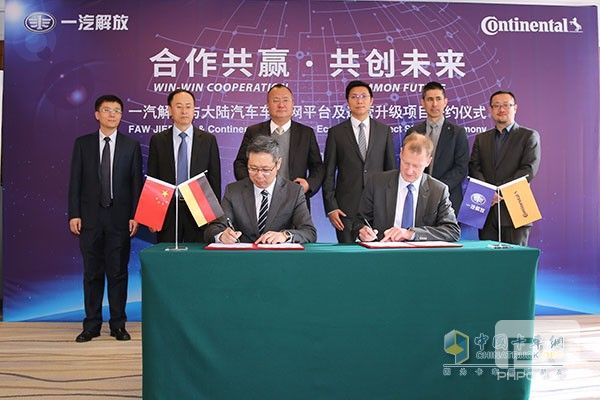 "We both see the huge market potentials in the internet of commercial vehicles. Based on the mutual trust and mutual benefits, we will work closely together to build intelligent transport system for the near future," said Dr. Michael Ruf.
"Our deepening cooperation will continue to expand to new areas, such as building intelligent trucks and smart transport system", said Hu Hanjie.
Boasting the longest history in China's auto industry, FAW Jiefang is now one of the leading players in China's commercial vehicle industry. In 2017, the company sold 297,000 units vehicles, including 26,500 units medium- and heavy-duty trucks, which accounted for 19.7% of the total market and ranked the first place in the industry.
Continental AG, which was established in 1871, is one of the Top 500 Enterprises in the world and is now specialized in providing spare parts for automobiles.
By closely working together, FAW Jiefang and Continental AG aims to push forward the transformation of China's commercial vehicle industry. By generating more business opportunities and helping customers cut their costs, they will contribute immensely to the improved efficiency in the logistic industry. (www.chinatrucks.com)