Jiefang Secures an Order of 2,000 Units Car Carrier Trailers
On February 28, FAW Jiefang Sales Co., Ltd. (hereafter referred to as Jiefang) officially signed an agreement with Qingdao Rongxing Logistic Co., Ltd. (hereafter referred to as Rongxing) According to it, Jiefang will provide 2,000 units car carrier trailers with center axles to the Rongxing. In addition, the two parties will deepen their cooperation in a number of areas, such as truck development, truck management, truck purchases and after-sales services.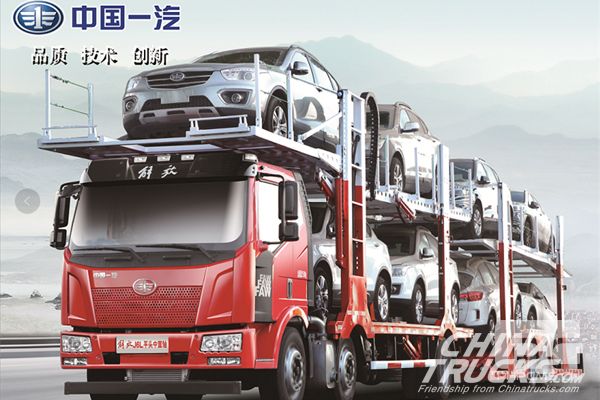 According to Jiefang, the first batch of 500 units car carrier trailers will go off the production line and be delivered to their customer this month. To ensure the smooth operation of these vehicles, the truck maker will send a special team to Qingdao to provide training courses for the truck drivers and maintenance workers.
With the implementation of GB1589-2016, those trucks generating much noise and a large amount of pollutants will be banned on the road from July 1st this year. As the leading player in the truck manufacturing industry, Jiefang is fully committed to bringing more environmentally friendly trucks on the road to help government build a greener living environment for people.
In 2016 and 2017, Jiefang successfully rolled out J6L 6×2 and J6L 4×2 car carrier tailer. Equipped with 320ps Dachai CA6DK engine, both vehicles are set to help their operators cut maintenance costs significantly. Their suspensions adopt four airbags, which help lower the height of their chassis and make their driving safer and smoother.
Currently, Jiefang boasts 28 different models of car carrier trailers, providing its customers more choices than any other players in the industry. (www.chinatrucks.com)