Dongfeng KX Hazardous Materials Delivery Truck Unveils in Shandong
Dongfeng trucks on May 11 unveiled its new Dongfeng KX hazardous materials delivery truck and delivered the first of 20 to Shandong Yuanshun Logitstics.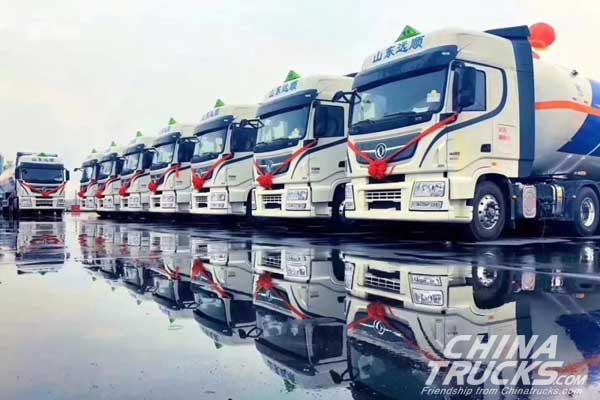 There are two engine options (Cummins ISZ13L and dCi11L) available to mate to DT14 transmission and Dana 440 rear axle with small ratio, offering strong and fuel efficient gold power chain.
Dongfeng KX hazardous materials delivery truck fully meets relevant safety regulations and come standard with front axle disc brakes, top indicator light, front exhaust pipe with flame arrester, speed limiter and engine auxiliary brakes.
Some key components, V-shaped rod, separable balanced suspension system are also fitted to lower the center of vehicle gravity. A vehicle with a low center of gravity can effectively avoid the risk of rollover when turning around.
In addition, the combination of active safety system, including Lane Departure Warning (LDWS) + FCWS Assist Driving System, ensures optimum safety performance.
Except for high quality products, Dongfeng also provides flexible service solutions to its customers, including maintenance and repair services.
Shandong Shunyuan Logistics placed another 80 Dongfeng KX hazardous materials delivery trucks just two month after the ordering its first 50 trucks in March. Shandong Shunyuan Logistics has owned 110 hazardous materials delivery truck under the brand Dongfeng since its operation in 2010. (www.chinatrucks.com)