FAW Jiefang Engine Branch Held 2019 Procurement Conference
On December 19, FAW Jiefang Engine Branch held 2019 Procurement Conference in Luoyang, Henan province. To meet more stringent requirements set by China's National VI Emission Standards and build a more solid and reliable supply chain, it exchanged views and held heated discussions with 255 suppliers from across China, making full preparations for its business expansion in 2019.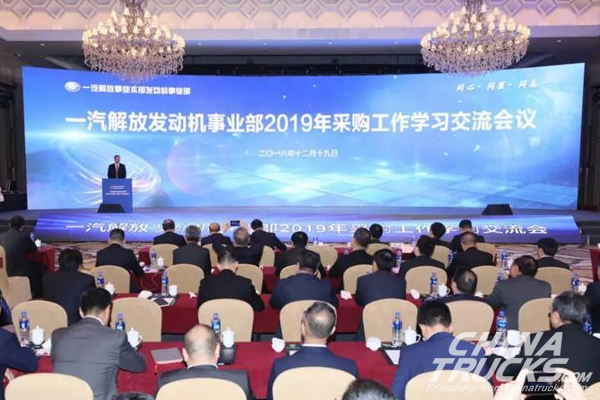 According to Xu Haigen, the head of FAW Jiefang Engine Branch, the company sold 240,000 units engines from January to November this year. In addition, its Jingwei 4DB1 engine, which made its debut in September this year, has sold almost 2,600 units. Its 13-liter Auwei CA6DM3 reached a production volume of over 20,000 units with its market share up by 9.7 percentage points.
From January to November this year, FAW Jiefang Engine Branch exported over 20,000 units abroad, up by over 43% year on year. Thanks to all these achievements, the brand value of Xichai is estimated to stand at 15,159 billion RMB.
As the engine industry is witnessing a transitional period, entering a brand new era with more stringent environmental and energy efficiency requirements for internal combustion engines. Against such a backdrop, FAW Jiefang Engine Branch is committed to providing greener, more efficient and more intelligent engines for its customers across the world.