Dongfeng launches Dongfeng KL and Dongfeng KR Trucks in Wuhan
On January 6, Dongfeng Commercial Vehicle officially released its new generation truck, KL. The new truck is equipped with 11 liter dCi465 engine with a maximum 465 horsepower and a maximum torque of 2,200 N.m. In addition, it is mounted with 14-speed manual DT1420 transmission gearbox and 1,000 Liter oil tank.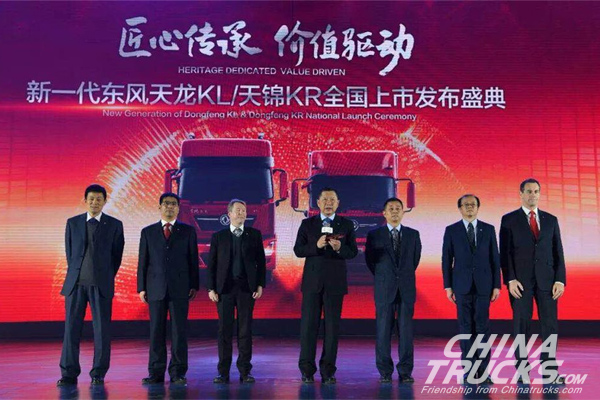 The truck is able to reach a speed ratio of 2.87 and cut its maintenance costs thanks to Dongfeng Dana maintenance-free rear axle and Conmet oil lubricated wheel end. Having gone through a host of optimizations, the truck has successfully lowered its body weight to 8.25 tons and improved its fuel economy.
Apart from the new Dongfeng KL truck and Dongfeng KR truck, a vehicle chassis for urban sanitation purpose and 560 horsepower Dongfeng KL flagship truck, both of which meet National VI Emission Standards, were officially revealed to the public in Wuhan.
The 6×4 vehicle chassis is built on D320 and is targeted at the heavy-duty sanitation truck market. With a host of advanced technologies, including DOC, DPF, SCR and ASC, it fully meets National VI B Emission Standards.
The 300 horsepower truck is equipped with DDi75 engine and has increased its torque to 1,400 N.m. Having lowered its body weight to 8.2 tons and adopted four latest fuel-saving technologies, the truck is able to cut fuel consumption by 6-9%.