The 3,000,000th DFCV Light Trucks Rolls off Line
Dongfeng Automobile Co., Ltd. (abb. DFAC) has announced that the 3,000,000th DFCV Light Truck rolled off the assembly line in Xiangyang production base, Hubei province on January 8, 2019. It was a new milestone for the truckmaker since the first light truck was produced at Xiangyang base in 1999.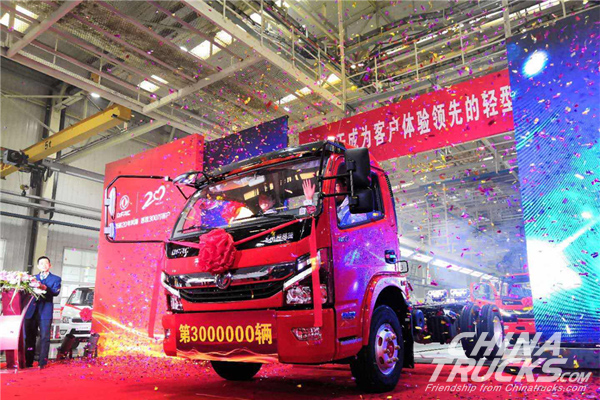 In 2018, Dongfeng Motor has reported an annual sales of 100,000 units of light trucks, an increase of 9% from the previous year. It 's been four years since Dongfeng Motor has exceeded 100,000 units in light truck sales, maintaining its position as the best-selling Chinese auto brand for light trucks.
Established on 15 July 1999, DFAC is a Chinese automobile company based in Xiangyang, Hubei province. So far in 2018, Dongfeng Light truck sales has grown from less than 20,000 units to 600,000 units, 1,000,000 units, 2,000,000 units and then to current 3,000,000 units in less than a decade period.
Dongrfeng Tuyi light truck, which was launched in just 2018, has set a new record with 7000 units sold this year, according to Dongfeng Motor. It also has been highly recogniged by many for its great performance, comfort and flexible operation.
A major breakthrough has been made in several key special vehicle segments including sanitation vehicle, tow truck, refrigerator truck, RV and dangerous goods transport vehicles. The company sold over 28,000 units of special vehicles last year, up 55% year on year, allowing it to retain the title as the Number 1 truckmaker in domestic light commercial vehicle refitting industry.
Through the years, Dongfeng's continued efforts also have helped its success in new energy vehicles. A product structure consisting of both passenger car and commerical vehicles has been formed. In initial period, it has only Dongfeng Tianyi pure electric buses, while now the products series has been expanded to include Dongfeng Yufeng A100 bus, Dongfeng logistics mimi van, Donfeng Junfeng ER30 electric sedan, E11k passenger car and Dongfeng Captain van.