SHACMAN 500 HP 6x4 Xuandeyi3 Self-dump Truck Makes its Debut
In its annual meeting 2020, SHACMAN officially released a new series 500 HP 6x4 self-dump truck Xuandeyi3 as an upgrade of its previous X series products.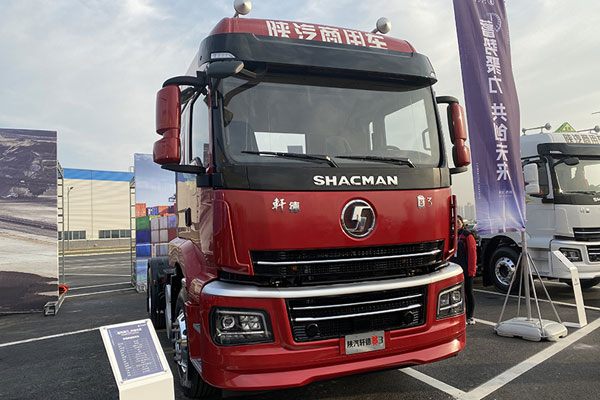 Xuandeyi3 6x4 self-dump truck is equipped with Yuchai YCK11500-60 engine, with a maximum output power of 368 kw and 500 horsepower. It can produce a maximum torque of 2,200N.m at 1,000-1,400 rpm. It meets National VI Emission Standards through a combination of advanced technologies (high pressure common rail + EGR + DOC + DPF + SCR).
The truck is equipped with FAST 12JSDX220TA-B aluminum-shell gearbox, with a maximum input torque of 2,000 N.m, a speed ratio of 12.1 in the first gear and a speed ratio of 0.78 in the highest grade 12 gear.
The truck adopts Hande MAN 5.5T maintenance-free front axle, ABS, and the lesser-leaf spring. Its front axle has two pieces of plate springs measuring 90x28mm.
The truck uses Hande MAN 11.5T single-stage rear axle with a speed ratio of 3.7, the standard ABS, with three equal-length leaf springs measuring 90x37mm.
In addition, the truck has an aluminum alloy fuel tank with a volume of 730 L, and two layers of pedals are designed in the groove of the fuel tank to overcome difficulties in getting on and off.
Xuandeyi 3 lightweight truck, mainly targets the coal transport market. In order to reduce its weight, the vehicle introduces aluminum alloy in the manufacturing.