100 Units Hongyan Tractors were Delivered to Inner Mongolia Customer
Date:
2021-07-19
Source:
chinaspv.com
July 19, 2021, Inner Mongolia, China, Lately, 100 units of Hongyan Genlyon C6 LNG tractors equipped with SAIC Power 12ET engine were delivered to Inner Mongolia customer. This is the customer's another batch purchase of Hongyan Genlyon C6 LNG tractor after April 2020.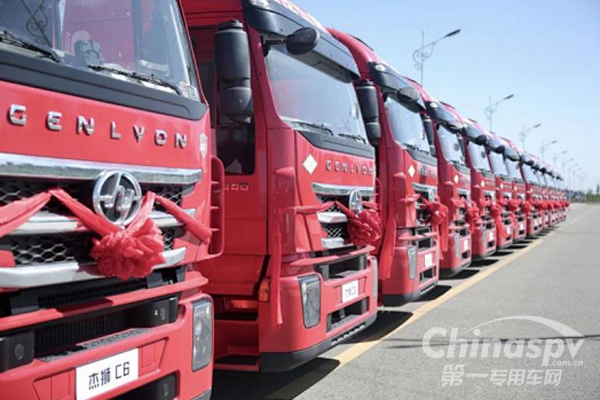 Hongyan Genlyon C6 LNG tractor adopts SAIC Power natural gas engine with national VI emission standards and FAST 12 gear transmission, with displacement of 11.81L, maximum horsepower of 440Ps and maximum torque of 1950N.m. The advanced stoichiometric-burn technology can not only decrease costs but also increase power performance by 23% and help customers with effective transportation.
With the implementation of national VI emission standards, SAIC Power 12ET engine received high recognition and praise from customers. And Hongyan C6 LNG tractors have become the new favorite in the logistics market due to effective transportation and environmental protection.
Actually, SAIC Power has launched multiple engines that can meet national VI emission standards with high efficiency, high reliability and energy saving before the implementation, including 10E, 12E diesel engine, 10ET and 12ET natural gas engines, and 13E and 13ET engine with better performance, which can ensure logistical tractors effective transportation with green and environmentally friendly power.