JAC Delivered T6 Pickup Trucks in Batch to Anhui
Date:
2021-07-20
Author:
Rosy
Source:
chinaspv.com
July 20, 2021, Anhui, China, On July 14, the first batch of JAC T6 pickup trucks were delivered to Anhui Runzhi Construction and Engineering Co., Ltd. to used in road and building maintenance.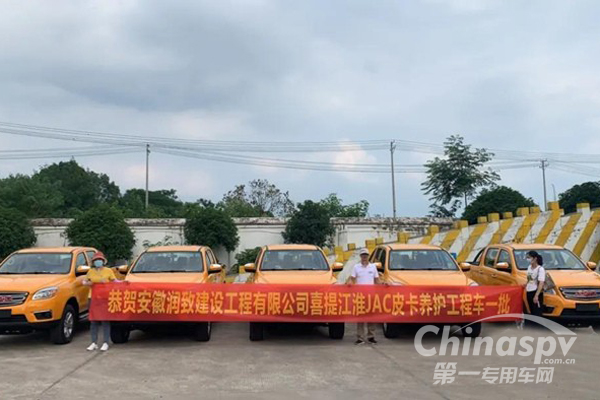 It is known that JAC T6 pickup trucks are equipped with 2.0CTI diesel engine and 6-gear manual transmission. The originated flat base container has a length of 1.81m and larger loading capacity by 16%, which can be used in large piece and emergency equipment transportation.
Cannon type dashboard, 8-cun colorful center control touch screen, part-time 4WD system, 7.5L fuel consumption per 100km and 3 year or 160,000km quality guarantee ensure fuel economy and high quality of the truck.
Engineering construction has always been a key targeted market of JAC pickup trucks. The batch delivery accumulated public praise and brand influence. In the future, JAC pickup trucks will provide more valuable customized vehicle solutions aimed at customers' demands and continue to consolidate its leading place in Anhui market.