Dongfeng Trucks Cooperated with Shandong Vibration Fly in Intelligent Logistics
Date:
2021-07-20
Author:
Alice
Source:
chinaspv.com
July 20, 2021, Shiyan, China, On July 14, Dongfeng Trucks Co., Ltd. signed strategic cooperation frame agreement with Shandong Vibration Fly Logistics Group.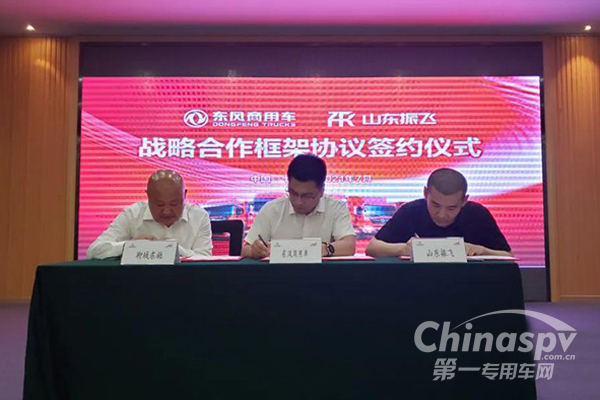 Hao Fei, chairman of the board of Shandong Vibration Fly Group noted that batch purchases of Dongfeng trucks in 2021 will be reached through the strategic cooperation. Shandong Vibration Fly Group will construct China intelligent road logistics transportation network and become the leader in the industry by building intelligent logistics (supply chain) as the core competitiveness.
Both sides will deepen cooperation in vehicle purchase, logistics, after-sales service, vehicle operation and other fields and actively explore new chances in fleet management, active service and new business fields under new business models to meet whole value-chain demands in different scenarios and provide customers with integral solutions.
On the site, Liu Yi, director of market and sales department, noted that Dongfeng Trucks will provide reliable products and services for Shandong Vibration Fly and support Shandong Vibration Fly logistics career's development by maximizing the whole life cycle value.
In the future, Dongfeng Trucks will offer more intelligent vehicles and services to customers.