Dongfeng Received about 300 Units Orders for Launching New Products
Date:
2021-07-21
Author:
Rosy
Source:
chinaspv.com
July 21, 2021, Wuhan, China, On July 18, Dongfeng Xiaobawang, a typical vehicle type under Dongfeng light-duty truck, launched new products including Xiaobawang W08, W15, W17 and W18 in ten cities in China.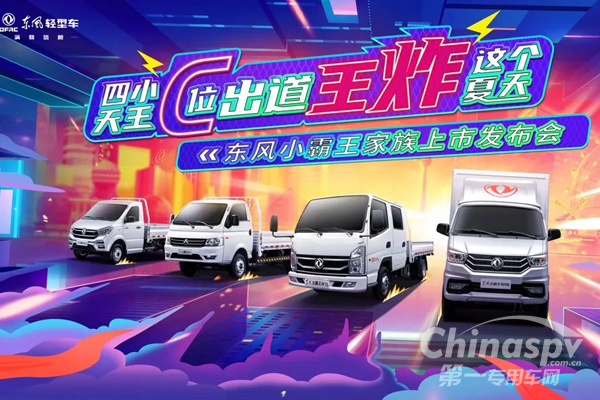 The four vehicles redefine comfortability, functionality, economy and practicability of small trucks and dedicate to achieving perfect resonance with young customers.
Xiaobawang W08 has lower fuel consumption equipped with Liuji gasoline 1.5L engine and Menwo MR63 five-gear transmission; it also has a larger loading capacity of 0.5t than competitors thanks to 1,400mm fully riveted straight beam, 1.5t rear axle and 1.085m rear overhang.
Xiaobawang W15 upgrades power to Liuji gasoline 1.6L engine and has more intense combustion; 2.5t rear axle fully guarantees the vehicle's loading capacity; the double row container has a length of 3.1m, which can match light-duty trucks.
Xiaobawang W17 adopts upgraded Liuji gasoline 1.6L engine, 1,750mm driving room and 4m ultra-large container, which refresh the limit of small trucks.
Xiaobawang W18 is equipped with leather seats, electrical control rearview mirror, central locking and power window, which can meet comfortability demands from new generation users.
The launch was held in Shijiazhuang, Ji'nan, Weifang, Changsha, Nanchang, Shangqiu, Tangshan, Chengdu, Kunming and Xi'an. Over 1,500 customers attended the ceremony and about 300 made purchases or placed orders on the site.