JAC Kangling Delivered Refrigerated Vans to Jiangsu
Date:
2021-09-08
Author:
Rosy
Source:
chinaspv.com
September 8, 2021, Jiangsu, China, On the morning of August 27, 5 units JAC Kangling refrigerated vans were delivered to Zhenjiang Yafu Jiangtian City Delivery Co., Ltd.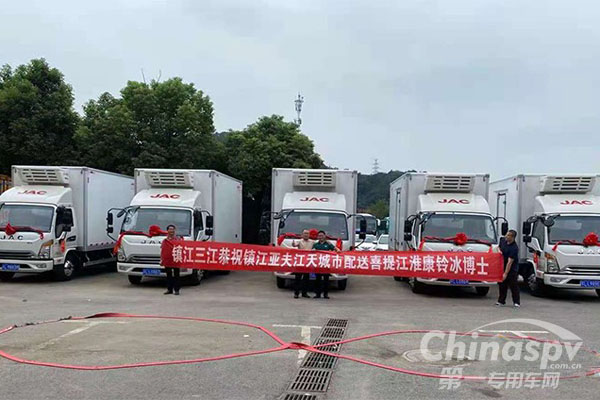 After the delivery, JAC workers explained the configuration differences between national V and VI vehicles, matters needing attention and common problems to drivers in detail.

When talking about why choosing JAC Kangling, the delivery company noted that the Kangling vans they purchased previously had stable performance during long-time operation and there was no breakdown except normal maintenance. Besides, Kangling also sent workers to check and maintain the vehicles for free. Therefore, they chose Kangling without any hesitation because they were very satisfied with the vehicles and services.
China Special Vehicle News Recommendation
China Special Car Recommendation
China Special Car Parts
China Special Car Manufacturers