XCMG Cooperated with UAE to Build "Belt and Road"
Date:
2021-09-13
Author:
Rosy
Source:
chinaspv.com
September 13, 2021, Dubai, Lately, Liu Jiansen, vice president of XCMG Machinery and general manager of XCMG Import and Export Co., Ltd., and Mr. Al Nuaimi, chairman of the Chamber of Commerce of the UAE Ras al-Khaimah, held fruitful talks on the cooperation between the two sides and reached multiple consensuses.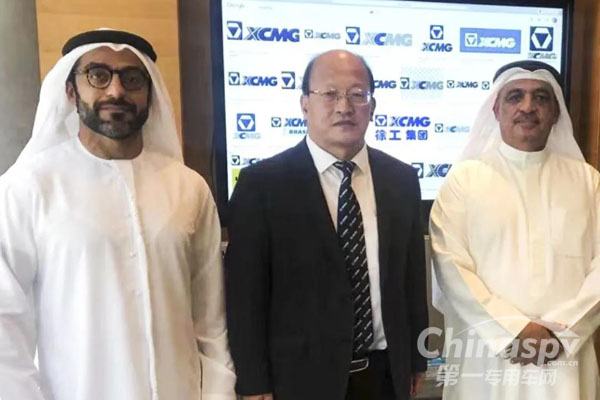 Chief Sh Soud spoke highly of XCMG's development and welcomed XCMG to invest in the UAE.

On the same day, Liu Jiansen and Max Link Equipment Leasing Company signed a memorandum of cooperation for 100 units oil and gas drilling rigs. He said, we need to further improve XCMG's competitiveness and market share in Middle East, and jointly contribute to the development of the local petroleum gas extraction industry and economic recovery under the epidemic.

Under the guidance of the "Belt and Road Initiative", XCMG's international expansion path has become wider and farther, and its brand awareness and reputation have also been unprecedentedly improved.

It is reported that the exports to countries and regions along the "Belt and Road" have accounted for 70% of the total export value of XCMG, and XCMG products have covered 63 countries and regions along the route.

At present, XCMG products have the largest export share in 30 countries along the "Belt and Road", and the export shares in Kazakhstan, Uzbekistan, the Philippines, Pakistan and other countries rank first among Chinese-owned brands.